National Museum of Scotland hit by strike action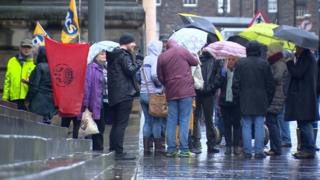 The National Museum of Scotland has been partially closed for a second day due to strike action over weekend working allowances.
More than 100 staff and officials from the Public and Commercial Services (PCS) union protested outside the Edinburgh museum on Sunday.
The union said a "two-tier workforce" has been created.
It said long-serving workers earned an extra allowance for weekends which was withdrawn for newly-appointed staff.
This was the third year in a row the long-running dispute has caused the partial closure of the museum at Christmas.
PCS also said the disruption could have been avoided had proposals put forward last month by the union been accepted.
All areas of the museum were closed except the entrance hall, restaurant, museum shop and the Grand, Animal World and Imagine and Discoveries galleries.
Joy Dunn, PCS parliamentary, campaigns, media and research officer, said: "This was a show of strength today, as it was yesterday, and our members continue to be resolute.
"This is the third anniversary of this dispute and I think it is now time that Scottish ministers intervened and facilitate a resolution in the New Year."
In a statement released on Wednesday, a spokeswoman for the museum said: "In January 2011, National Museums Scotland introduced revised contracts for new staff which do not include weekend working allowances - this is commonplace in the many shops, businesses and other visitor attractions which, like National Museums Scotland, operate seven days a week.
"To introduce weekend payments for these staff would be an additional cost of over £400,000 per year, which in the current public sector funding climate is unaffordable.
"No member of staff has received a pay cut following the introduction of new contracts in 2011 and existing terms and conditions have been preserved for all staff employed prior to this date."