SSTA teaching union warning over 'bureaucracy'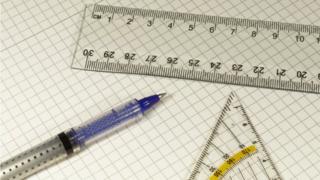 A teachers union has claimed the workload linked to new qualifications is "out of control".
The Scottish Secondary Teachers Association (SSTA) said teachers were spending hours every week on tasks other than teaching.
It called some of the arrangements for the qualifications "over-bureaucratic".
The Scottish government said it had made an "unprecedented" investment in supporting changes and was in discussions on managing workload.
A larger teachers union, the EIS, recently warned of possible industrial action if similar concerns were not dealt with.
The SSTA has been surveying its members to get their views on the new qualifications. The union supports the qualifications themselves - its concerns are over workload, bureaucracy and certain practicalities.
'Imposition'
Seamus Searson, SSTA general secretary said :"The situation that teachers face in schools today in trying to do the best for their young people is unmanageable.
"The survey is clear evidence that the requirements of the new qualifications are 'out of control' and are an imposition upon secondary school teachers.
"Teachers have insufficient time to carry out the over-bureaucratic arrangements set out by Scottish Qualifications Authority (SQA).
"The SSTA is requesting local authorities, as the employers of teachers, to take control of the situation and impose limits on teacher time being spent on such activities that are taking teachers away from teaching and learning".
The union's survey also suggested that many teachers are teaching students studying for different levels of qualification together - for instance, a class may include some youngsters studying for National 4s and others studying for the more advanced National 5s.
Occasionally three or even four courses are being taught at the same time.
Comments made by members in the self-selecting survey highlighted how some felt demoralised or worn out.
'Red tape'
One said: "I am a faculty head of 31 years' experience. In terms of workload, the last five years have been by far the worst in my career, working seven days a week with Monday to Friday regularly being 10 hour days. "
Another wrote: "In near 40 years of teaching, I have never had such a workload. Marking unit assessments and assignments takes a huge amount of time as pupils must attain 100% of the criteria or they fail. This is unacceptable".
One other teacher commented: "There are times that I feel like I am drowning in bureaucracy and ambiguity. I am not enjoying my job as much as I used to, and I feel that my ability to teach effectively has decreased as I am spending more time deciphering vague assessment guidelines and sifting through red tape".
Euan Duncan, SSTA President said: "This survey has highlighted the challenge teachers have been dealing with in delivering the new qualifications and the lack of understanding that SQA and employers have in addressing teacher workload.
"It appears that assessment is being carried out for assessment's sake and that teachers are not being allowed to develop their teaching".
A Scottish government spokesperson said: "The Scottish government, working closely with the Scottish Qualifications Authority and Education Scotland, has provided an unprecedented level of support - over £11m since 2012 - to help teachers and schools prepare for Curriculum for Excellence and the National Qualifications.
"We are continuing our detailed discussions with teacher unions and other partners to make improvements to how our qualifications work, in the interests of Scotland's young people. These discussions will fully address issues of teacher workload."