Teachers' industrial action 'a step closer' says EIS union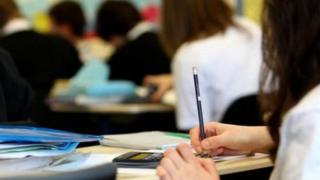 Scotland's largest teaching union has warned that industrial action over increased workloads is a step closer.
An informal ballot carried out by the EIS showed 93% of secondary staff who took part backed potential action.
The EIS blamed the new qualifications system for increasing demands on staff. EIS general secretary Larry Flanagan said teachers "have had enough".
The Scottish government said industrial action "would not be in the interests of anyone".
The EIS supports the new qualifications - but has long warned about workload, bureaucracy and stress.
One concern is about so-called over-assessment.
The union said efforts to deal with workloads had not done enough to help - and balloted its members to get an idea of whether they would be prepared to take industrial action.
Of those who returned ballot papers, 93% (7,175) said they would.
'Depth of anger'
The union has now called for more talks with the Scottish government and the Scottish Qualifications Authority.
If the talks are not successful, there could be a legally-standing vote in the new year followed by a boycott of any additional work related to the qualifications.
Larry Flanagan said: "This overwhelming result demonstrates the depth of anger and frustration that secondary teachers are experiencing in relation to excessive qualifications workload.
"Assessment overload, particularly in relation to National 5 and National 6 Unit Assessments and SQA verification procedures, continues to place a huge strain on pupils and teachers alike.
"Action is needed, and quickly, to reduce this unsustainable workload burden."
A Scottish government spokesman said: "We note the result of this indicative ballot, and will certainly continue our detailed discussions with the EIS and other partners to make improvements to how our qualifications work, in the interests of Scotland's young people.
"These discussions will fully address issues of teacher workload.
"Industrial action would not be in the interests of anyone, least of all children and parents."