Groups across Scotland awarded £3.3m from Big Lottery Fund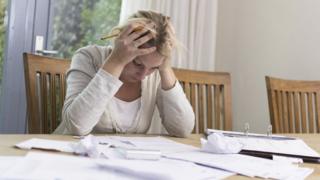 Tenants struggling to make ends meet and young people missing out on education are in line for £3.3m funding from the Big Lottery Fund.
The Link Group, Article 12 and CLAN Cancer Support will all benefit.
They are joined by Glenboig Neighbourhood House, Crossroads Caring for Carers (Cowal & Bute) SCIO and The Phoenix Community Health Project.
Maureen McGinn, from Big Lottery Fund Scotland, said the awards will allow the groups to have "a better future".
The Link Group will receive £548,462 to allow them to expand their tenant transitions advice service. The project helps 3,000 people in financial difficulty and gives advice on dealing with debt and household budgets.
An award of £535,361 means Article 12 will be able to continue to work with young people from the gypsy travellers community and help them access further education, training or employment.
The £408,274 given to the CLAN Cancer Support will provide support to children and their families in Aberdeenshire who are affected by cancer.
'A Better Future'
The Glenboig Neighbourhood House provides care for pensioners such as meal delivery and befriending in Glenboig and the surrounding villages of Annathill and Greenfoot in North Lanarkshire. It has received £640,966
In Argyll and Bute, the Crossroads Caring for Carers (Cowal & Bute) SCIO project helps people aged between five and 24 with their role as carers. They will benefit from £542,643 of funding.
Finally, the Phoenix Community Health Project - which helps people in Inverclyde who have experienced long-term mental health conditions - will receive £660,092.
Maureen McGinn, the Big Lottery Fund Scotland chairwoman, said: "Our Big Lottery Fund support focuses on people and communities in greatest need. With today's awards, six projects across the country will help people facing a variety of challenge move through tough times to a better future.
"From connecting with hard-to-reach youngsters and giving them the skills and confidence to move onto training, to providing vital advice and support to tenants at risk of spiralling into debt, this life changing money will make a huge difference to thousands of people across the country."
The Big Lottery Fund is responsible for the distribution of 40% of the money raised by the National Lottery, and invests £650m in projects across the UK every year.