Refugees to be given legal protection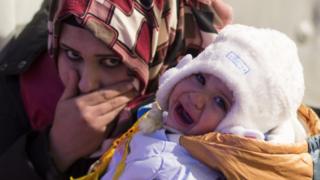 New guidelines have been introduced to protect refugees from prosecution if they break the law in order to enter Scotland.
Lord Advocate Frank Mulholland said those seeking safe haven in Scotland after fleeing persecution abroad may have to breach immigration rules.
This could include using false passports, or no passport, to enter the country.
Mr Mulholland said refugees should not, as far as possible, be penalised.
But he said they would need to meet three criteria in order to avoid potential prosecution:
Come directly from another territory where their life or freedom was threatened
Present themselves to the authorities without delay.
Show good cause for their unlawful entry or presence.
Mr Mulholland said the new guidelines were an important step forward in how Scotland country deals with refugees and those seeking safety from countries such as Syria.
They are based on article 31 of the 1951 Refugee Convention.
The Lord Advocate added: "To flee persecution and danger, it may be necessary to take steps to protect themselves and their families and we need to recognise the complexities of their situation, and the difficult choices they face.
"I want to ensure that prosecutors are clear on the factors they have to take into consideration when making decisions that can affect the life and liberty of asylum seekers.
"This new prosecution policy sends a clear message that prosecutors will take into account the principles behind the 1951 Refugee Convention when making decisions in individual cases."
'Leave suddenly'
Mr Mulholland also said he would work with criminal justice agencies and other organisations across Scotland and the rest of the UK in order to "ensure that those who need our help and protection will be given it."
He said the new policy followed extensive consultation with refugee charities, police, human rights organisations and academic experts.
The announcement was welcomed by the Scottish Refugee Council.
Its head of policy, Gary Christie, said: "Refugees fleeing torture, imprisonment or human rights abuses often have to resort to unlawful entry to or exit from other countries as legal avenues to safety are not available to them.
"In many instances refugees may use false passports or have no passport as they cannot get passports from governments which are persecuting them or they may have to leave suddenly."