Forth Road Bridge closure: Derek Mackay hopeful over repair timetable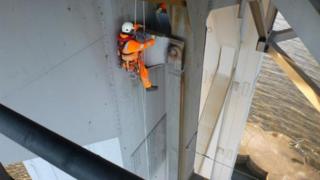 Urgent repairs on the Forth Road Bridge should be completed on time and the structure reopened to all traffic, Scotland's transport minister has said.
Derek Mackay told the BBC that "as it stands" the work should be finished in early January.
The bridge was completely closed on Friday and alternative travel plans have been put in place.
Engineers have been carrying out assessments of the problems, with repair work due to begin next week.
Extra trains between Fife and Edinburgh have been laid on and 11,000 extra bus seats are available.
A new early-morning rail service from Inverkeithing station to Edinburgh Waverley, leaving at 05:52, will begin running on Tuesday, ScotRail said.
Follow our Scotland Live page for regular updates
Why is the Forth Road Bridge closed?
The troubles of the Forth Road Bridge
Firms warn of bridge closure costs
Trains were very busy on Monday morning with increased queuing at Inverkeithing but there was plenty of room at the park-and-ride facilities.
Mr Mackay told BBC Radio Scotland's Good Morning Scotland programme: "As it stands right now, we believe that if we remedy and repair the fault, strengthen that, the bridge should be operational and open to all traffic on completion of the repair as per the timetable that I had outlined over the weekend."
The Scottish government believes that the urgent work should be completed by the end of the festive season.
It is estimated that about 70,000 vehicles use the Forth Road Bridge each day and Friday saw 11-mile rush-hour tailbacks on the first full day of its closure.
A plan has been put in place to help ease travel problems:
ScotRail has added 6,500 seats on routes between Fife and Edinburgh
11,000 seats are being made available on park-and-ride buses
a dedicated "corridor" is being made available for buses and HGVs on the A985 and an information webpage has been set up
the Kincardine Bridge is only open southbound to trucks and buses with cars being diverted to the Clackmannanshire Bridge
some ScotRail services in other parts of Scotland have been reduced in order to increase capacity in Fife
road policing officers, working with Amey traffic management, will be monitoring the diversion routes
people are being urged to stay at home if possible, avoid peak times and car share
Mr Mackay insisted that the fault was not linked to a drop in finance because of the ending of bridge tolls in 2008.
He said: "This is a fault, that we believe on expert advice, only happened in the last few weeks.
"So on routine inspection, it was identified on Tuesday, expert engineering analysis studied that and inspected it fully, information went to ministers on Thursday evening, within minutes a decision was taken on advice on recommendation to close the bridge that evening."
Mr Mackay added that the two reasons for closure were not to compromise safety to prevent further damage to the structure of the bridge.
Businesses are already feeling the impact of the repair work, including road hauliers.
Increased travel times
Martin Reid, the Scottish director of the Road Haulage Association, explained how relatively short journeys had doubled in length.
He told Good Morning Scotland: "What we have established is that even the most basic journeys where you are moving from West Lothian into Central Fife - journeys that would normally take 40 to 50 minutes - are now taking two to three hours.
"There is ongoing costs to that, there are delays to service, additional costs attached to running idle when you are in traffic jams. It is having a massive effect there is no doubt about that - to be fair it is affecting everyone in the east of Scotland."
Edinburgh City Council said it had suspended all major roadworks across the city as part of contingency plans aimed at minimising the disruption caused by the closure of the bridge.
It has also asked utilities companies to suspend all planned works and has assembled a team of transport and resilience staff to monitor the ongoing situation.
Council leader Andrew Burns said: "The council's priority is to keep the city moving throughout this period and we have a number of measures in place to help achieve this, including the cancellation of roadworks and managing restrictions around busy public transport hubs.
"Existing infrastructure will also support our efforts, such as our park-and-ride system, and we would encourage commuters to make use of this."
---
Timeline of Forth Road Bridge closure
Tuesday, 1 December (15:30) - Problems with the inner link support beam to the north-east tower truss end link were identified during an inspection at 15:30.
Tuesday, 1 December (21:30) - Closure of southbound carriageway was implemented at 21:30 with contraflow on northbound carriageway.
Wednesday, 2 December - Specialist engineers undertake structural inspection and assessment, which carries on into the night.
Thursday, 3 December(14:30) - Further assessment is carried out. Non-destructive testing is undertaken at the affected location and design solutions are developed for both interim and permanent repairs. The structural assessment identifies stress at this and other locations. A decision is made at 14:30 to close the bridge to heavy goods vehicles.
Friday, 4 December (00:01) - Further testing identifies a likely crack in the remaining outer link support beam. After more analysis the decision is made to close the Forth Road Bridge to all traffic at midnight.
New year 2016 - No actual date is given for reopening, but Traffic Scotland says that "given the programme and timescales expected, the bridge shall remain closed until after the new year".
---