NHS Fife and NHS Lanarkshire criticised over mental health care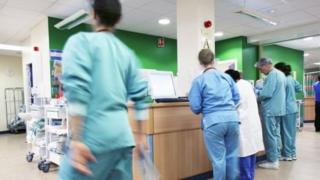 A public services watchdog has criticised the NHS over its handling of two patients with mental illness.
NHS Fife was criticised after a man in its care who suffered from mental health issues ran away from hospital and killed himself.
The Scottish Public Services Ombudsman (SPCO) said the care the man received was "inadequate" and "unreasonable".
NHS Lanarkshire was also criticised for delays in treatment to a patient who had suffered a psychotic episode.
In the Fife case, the man had been taken to Stratheden Hospital, near Cupar, by his parents for treatment for paranoid schizophrenia.
He had a history of self-harming and attempting suicide, but due to a crucial form being unfinished by doctors he was able to leave the hospital.
The man was found dead on the railway line at a nearby station within an hour of when he was last known to be at the hospital.
The ombudsman said the health board's risk assessment was "inadequate" and that it was "unreasonable" that the man had left hospital without staff realising.
'Tragic case'
NHS Fife Chief Executive Paul Hawkins said the board accepted the recommendations.
He said it was a "tragic" case and offered "sincerest sympathies" and unreserved apologies to the man's family.
"We accept that the care provided in this case fell considerably short of the standard that should be expected", he said.
NHS Lanarkshire was also criticised in a separate report by the ombudsman in a case involving a woman who was taken to Wishaw General Hospital after a psychotic episode.
Her condition deteriorated during an "undue" delay for a psychiatric assessment because a junior doctor failed to recognise the severity of her illness.
This led to her being restrained by police and sectioned.
A spokeswoman for NHS Lanarkshire said they aimed for the highest standard of care and "deeply regret" the failure to meet this standard.
They added that they would apologise to the family involved, and "fully accept the Ombudsman's recommendations".