School tests plan 'causing angst', MSPs told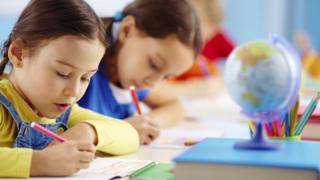 Concerns about how data gathered from new tests in schools will be used is "causing angst" in the teaching profession, MSPs have been told.
The Scottish government plans to introduce standardised assessments across Scotland.
It hopes to use the data to help drive up standards and close the gap between how well children from relatively rich and poor backgrounds do.
But critics fear it will lead to league tables.
Another concern is that it could result in teachers simply teaching children to pass tests, undermining the principles behind Curriculum for Excellence.
The government describes the scheme as standardised assessments and insists it will not be a return to what it called the "high stakes testing of old" abolished more than 10 years ago.
League tables
Pupils across Scotland would be tested in P1, P4 and P7, and again in S3 - the tests would replace various assessments used by different schools and local authorities.
Critics fear the scheme amounts to national testing and are particularly worried the data could be used to produce league tables - suggesting a school's quality and performance in the tests were one and the same.
The teaching union said it was not against the use of standardised tests in terms of supporting young people's development but warned against making such assessments the focal point of the NIF.
Susan Quinn, of the EIS, told Holyrood's education committee: "We are not against the use of standardised assessments or tests in terms of supporting young people's development.
"What we would like to see with the National Improvement Framework is a consideration of how you can gather the information from teachers' professional judgements to inform the national position, and to then consider whether or not there is a need for a national test within that.
"We would argue there is evidence within the system just now that local authorities are gathering evidence.
"Some make use of standardised tests, equally some of them don't in order to do so."
She added: "We are clear that there are major issues around putting a test in place that will be for every single child.
"There are clear educational arguments as to why it isn't going to be helpful to the young people.
"There are clearly going to be young people who will be disadvantaged by a test of this nature and we would argue that it is counter-intuitive to teacher professional judgement to say you have to use a particular assessment tool to back up your assessment judgement.
"We would argue it is for local authorities to decide what their assessment policy is."
Written evidence
Craig Munro, of the Association of Directors of Education in Scotland, said the organisation was "very supportive of NIF" but added it was "how you use information to drive improvement" that was "causing the angst, not the testing so much".
Mr Munro said: "There are various options about how we can do that without creating the league tables and the negative stereotypes."
"I don't think the test is the issue, I think it's the use we make of the information."
In a separate development, one critic of the plan says the government received only a handful of pieces of written evidence ahead of announcing a return to national standardised testing.
Former secondary teacher James McEnaney - who is now a lecturer and a contributor to website Commonspace - made a Freedom of Information request to the government.
He said that in the three months prior to the policy announcement, only four pieces of written evidence were received - all emails - from only two education advisors
One was critical while the other was more supportive.