Alex Ferguson lung cancer advert helps increase early detection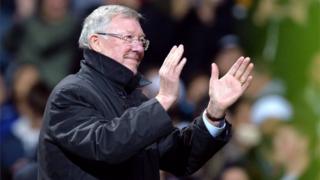 Adverts featuring Sir Alex Ferguson have been credited with a large increase in the number of lung cancer cases being detected early.
In the adverts, the former Manchester United and Aberdeen manager talks about how early detection can give you extra time with your family.
Both his parents died from lung cancer.
The percentage of people diagnosed with the earliest - stage one - lung cancer has increased by 24.7% since the adverts were first screened.
People are 20 times more likely to survive lung cancer if it is discovered early compared to a late stage two detection.
The Scottish government's Detect Cancer Early programme - which includes the adverts featuring Sir Alex - aims to increase the proportion of people who are diagnosed in the early stages of breast, bowel and lung cancer by 25% by the end of 2015.
Fear of 'the big C'
Speaking ahead of the Scotland Against Cancer conference in Edinburgh, Health Secretary Shona Robison, said: "We need to get the message out loud and clear that the earlier you come forward to get checked or be screened, the better. It could save your life.
"The support and involvement of Sir Alex Ferguson helps show what a difference this kind of clear messaging can make.
"We also know that fear is a barrier to people presenting with potential symptoms and attending cancer screening. To help improve survival rates, this generalised fear of 'the Big C' needs to be addressed."
She added: "We will go on investing in early detection and campaigns like this with the clear aim of boosting early detection and improving survival rates even further."
Speaking when the Detect Cancer Early initiative was launched in 2012, Sir Alex said: "I know better than most the devastating impact that cancer has on families.
"If you're a smoker like my parents were, always be aware of any changes to your health and go straight to your doctor.
"Life is very short and there's so much to live for, especially after cancer."