'Early testing' needed to halt HIV deaths in Scotland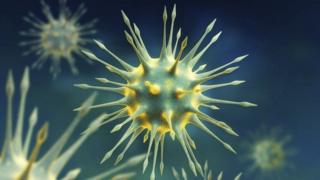 An HIV charity is calling for more people to get tested early for the infection to halt the trend of late diagnosis and deaths in Scotland.
The Terrence Higgins Trust has raised concerns about availability of HIV testing, which it said should be as commonplace as dental check-ups.
Health Protection Scotland said 34 people diagnosed with HIV died in 2014.
The Scottish government said it expected local NHS boards to provide adequate sexual health services.
At least one person every day is diagnosed with HIV in Scotland, however, research has suggested that between 1,000 and 1,600 more people have the virus but do not know it.
'People still dying'
Robert McKay, Scottish director at the Terrence Higgins Trust, said: "In Scotland there are really, really worrying trends around people not getting diagnosed until they are actually quite ill.
"We have had referrals for supports where we have them one week and then the next week they've actually passed away."
Mr McKay said another worrying trend was "complacency", with people not concerned enough to come forward for testing.
"Advances in treatment, in some respects, have also led to a bit of complacency, because people think 'oh well, it's not as serious as it was before, at the end of the day you can get treatment, you're not going to die of it'," he said.
"However, the bottom line is there are still people dying with HIV in Scotland because they haven't been tested."
Experts also claimed there was evidence to suggest that people were being turned away from testing at NHS clinics because they do not have the capacity to see everyone who attends.
Dr Jamie Frankis from Glasgow Caledonian University said action was needed to address gaps in provision.
"The level of new infections amongst men who have sex with men is the highest now that it has ever been in Scotland," he said.
"It is unbelievable to me that it hasn't gone down.
"We need to look at the way that we can make the testing and treatments available to people appropriate.
"And we also need to look at how that's funded so that we are not in the crazy situation that we are in today where we provide satellite clinics in certain areas and where they are literally turning people away from certain clinics because it is full."
Minister for Public Health, Maureen Watt, said it was important that anyone who needed the services of a sexual health clinic was able to get an appointment within "a reasonable timescale".
She said the government expected local NHS boards to provide adequate sexual health services to their local communities.