Scotland responds to Paris attacks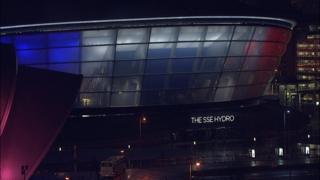 The Usher Hall in Edinburgh and Glasgow's Hydro have been lit in French colours as a mark of respect.
They were among the Scottish venues joining hundreds of landmarks around the world in their response to the Paris attacks.
Sunday sees the Glasgow Warriors return home after their European Champions Cup game in Paris was postponed.
A number of public events were organised in Scotland after the assaults in the French capital.
A vigil was held in Glasgow to show support for the people of Paris following the Friday attacks.
People gathered at the Buchanan Gallery steps to express their solidarity.
Earlier, First Minister Nicola Sturgeon chaired a meeting of the Scottish government's resilience committee. Ms Sturgeon said the events in Paris were "unspeakably awful".
Ms Sturgeon also signed a book of condolence at the French Consulate in Edinburgh.
She wrote: "We stand with the people of France in love, friendship and solidarity."
The first minister said: "I think everybody waking up this morning will be deeply shocked, and obviously our thoughts, our prayers, our solidarity, are with the people of Paris and indeed the people of France today.
"France has had to bear more than what any country should be expected to over the course of this year, so this is awful beyond words."
Scottish Labour leader Kezia Dugdale cautioned against seeking "easy solutions" and added: "In the face of this terror let us hold on to, and build on, our profound belief that we can make tomorrow better than today."
Scottish Conservative leader Ruth Davidson expressed her sympathy and said: "We will not be cowed by terrorists, nor willingly give up the freedoms we enjoy, that they would seek to crush."
Peace conference
Later on Saturday, the Ahmadiyya Muslim Community Glasgow held a peace conference and dinner at Bearsden near Glasgow.
Although it was organised before the events in Paris, participants decided to observe a minute of silence for those killed in the attacks.
The Ahmadiyya Muslim Community Glasgow said it totally condemned the "barbaric attacks" and added their "deepest thoughts and prayers are with the victims, their families and all the people of France".
The Moderator of the General Assembly of the Church of Scotland has spoken of his horror at the atrocities in Paris.
The Right Reverend Dr Angus Morrison said the thoughts and prayers of the Church are with the people of France.
Dr Morrison added: "It is impossible to comprehend the mindset that leads people to perpetrate such indiscriminate barbarity against their fellow human beings.
"There can be no possible justification for such wicked acts which sadly reveal humanity at its very worst."
There will be a special memorial service at St Giles' Cathedral in Edinburgh at 11:00 on Sunday, which will include a minute's silence and special prayers.
Prayers will also be said at the Scots Kirk in central Paris, where a candle of remembrance will be lit.
The President of the Bishops' conference of Scotland, Archbishop Philip Tartaglia has sent a message of support to the Archbishop of Paris, Cardinal Vingt-Trois expressing his "sadness at the horrific events which unfolded in Paris last night".
Archbishop Tartaglia's message also promises to "join with you in prayer, commending to God's love and mercy all those who were killed, injured, and bereaved".
The Scottish Secular Society said it shared the world's outrage at what happened in Paris.
Society chairman Douglas McLellan said: "Our hearts and minds are with the people of France today; a country and a people committed to secularism, equality and compassion.
"In sorrow, we hope for their safety."