'Life and death' refugee stories told in photographer's exhibition
Mohammad was a successful businessman in Syria until a rocket destroyed his house in the middle of the night.
With his wife Kamar and their seven children, he was forced to flee to Egypt.
They believed the move would be short-term until the fighting had stopped in Syria but after 18 months, and with an increased risk of violence in Egypt, they could no longer stay.
Mohammad made his way into Europe in search of safety.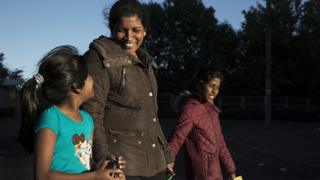 The story of Mohammad and his family is one of four in an exhibition by Australian photographer Conor Ashleigh at Glasgow's Mitchell Library.
Ashleigh spent two months getting to know the families and recorded their stories about making the journey to the UK and the challenges that face them as they start life again.
After fleeing Egypt, Mohammad spent 15 days with 450 others on a fishing boat across the Mediterranean before making his way into the UK in May 2014, hidden in the back of a refrigerated lorry.
He said the voyage was "a matter of life and death".
His family were able to join him in February 2015, including his eight-year-old daughter Yamat, whose hearing was permanently damaged by the rocket blast that hit their home. Mohammad was delighted to be reunited with them again.
He said: "I had been planning for my family to join me, and so I was very happy when my plans were realised.
"The first thing I'm thinking of is my children, so we will be staying in Scotland. We lost everything back home, so after I improve my language, we'll start again from zero."
Many people seeking asylum status in the UK have to endure a legal battle, which can take months, before their families are able to join them.
Even then, some are refused, based on their age or marital status.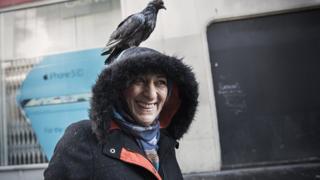 For example, Iranian-born Monir, who features in the photography exhibit, had to say goodbye to her two children who were ineligible for family reunion because they are over 18 and married.
The Red Cross, who approached photographer Conor Ashleigh to collaborate on the exhibition, believes that more should be done to make it easier for families seeking asylum in Scotland to be reunited, including extending eligibility to include parents, grandparents and family members at risk.
Refugee services manager Phil Arnold says: "We believe that families belong together. We know that forced separation can have devastating consequences for people in an already traumatic situation.
"As the humanitarian crisis that has seen the highest numbers of refugees since records began unfolds, and the number of people who are displaced continues to grow, it is important that family reunion is viewed as a safe and legal route by which people can seek sanctuary in the UK."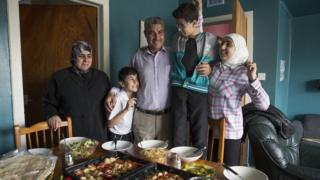 Human rights lawyer Thamer and his family fled from Syria to neighbouring Jordan in 2012.
Thamer had been imprisoned and tortured for his human rights work and for speaking to the Syrian media about the conflict in his country.
His family were no longer safe.
He then made a 25-day journey through Italy and France to seek asylum in the UK in search of a better life.
Thamer's wife and four children were eventually able to join him in Scotland, after a lengthy legal process to allow them into the country.
On 9 June 2014, the family were reunited at Glasgow Airport.
It just happened to be his wife Rashida's birthday.
Speaking of his preparation for their arrival, Thamer said: "Before I went to the airport, I made food, and some Arabic sweet biscuits, and bought a gift and flowers for Rashida.
"I was so happy to see my wife and children at the airport. When we finally got home, I surprised Rashida with the gifts."
The family have settled well into Glasgow life, and for the first time, Thamer's children are excited about their future.
He added: "The life here is very nice, and the people are friendly. Life is quiet.
"We have more friends now, and bigger dreams."
Conor Ashleigh believes he formed a strong bond with the families during the time he spent with them.
The photographer says he has gained an understanding of some of the difficulties that refugee families face as they try to get their lives back on track.
Speaking of the friendships he has forged, he said: "It didn't take long for the kids to become comfortable with me.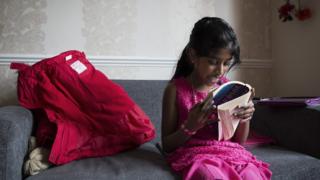 "The eldest girl of the Sri Lankan family was reading Roald Dahl's Charlie and the Chocolate Factory, and every time I saw her she'd say 'guess what page I'm on?'
"The last time I visited her family to show them the photos, she beamed at me and said: 'I finished Roald Dahl!'"
Conor hopes his photos do justice to the "wonderful privilege" he has had spending time with the four families.
He added: "Every day there was something that made me laugh, because it challenged my own stereotypes.
"It made me realise that everyone finds their home, everyone finds their feet, everyone will integrate in a different way."
Starting Again... A New Life is open until 31 October in the Moir/Dyer rooms at the Mitchell Library, before it moves to Kibble Palace at Glasgow Botanic Gardens from 3 November to 30 November.