'No plans' to rebrand Scotland Office following social media revamp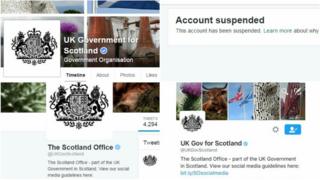 The Scotland Office said there were no plans to change its name after a revamp of its social media accounts.
The office has rebranded its Facebook page and Twitter accounts to UK Government for Scotland and @UKGovScotland.
The former @ScotlandOffice handle was taken over by someone running a parody, but it has since been suspended.
The Scotland Office said the branding was to explain what the department does and that no major changes are planned.