National Library of Scotland to put third of collection online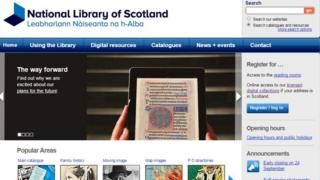 Manuscripts of Robert Burns and Walter Scott are among items being digitised as the National Library of Scotland moves to extend its offering online.
It is aiming to make a third of its 24 million items available on the internet in the next 10 years.
It said it was one of the biggest programmes of its kind anywhere in Europe.
The library has already put some iconic items online and has seen its website traffic double in the last five years.
The library said it was committed to making as much material digitally available as possible.
Official reports on many subjects, thousands of films on life in Scotland and memorabilia from last year's referendum on Scottish independence are among other items which will be on offer for readers to view via the internet.
'Future generations'
National Librarian Dr John Scally said: "The internet has created a revolution in how people expect to be able to access information.
"We want people to be able to connect to our collections from wherever they are, rather than having to consult material in the Library as has been the case for most of our existence. We are committed to removing as many barriers as possible that prevent people accessing our collections and services."
He added: "Our role is to be the guardian of the published and recorded memory of Scotland for current and future generations. Our aim is to make the knowledge held within our collections as widely available as possible."
The library already has a strong online presence and has digitised a number of its iconic items including the last letter of Mary Queen of Scots, the Order for the massacre of Glencoe, the first books printed in Scotland in the 16th century, the first atlas of Scotland and First World War official photographs.
It said its website now had more than three million visits annually.
Culture Secretary Fiona Hyslop said: "The National Library's new strategy 2015-20 highlights the key role that the Library plays in educating and supporting research and innovation, and enhancing Scotland's profile here at home and abroad.
"I am pleased to see that it is firmly committed to improving access to its impressive collection of 24 million items by developing further its online presence to make its collections more widely available and engage with new and more diverse audiences worldwide."