Catholic Church makes refugees offer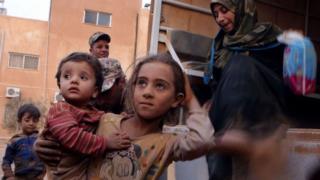 Catholic Church bishops have written to First Minister Nicola Sturgeon offering to welcome and support any refugees who arrive in Scotland.
The letter has been sent by Archbishop Philip Tartaglia on behalf of Scotland's 452 parishes.
It offers to "place our parish resources at the service of those 21st Century newcomers who find themselves in greatest need".
Pope Francis called for every church in Europe to respond to the crisis.
Archbishop Tartaglia said he supported Ms Sturgeon's response and was "inspired by Pope Francis" to "offer the assistance of the Bishops' Conference of Scotland in any plans that may emerge in the months to come to support and assist the new arrivals to our country"
He said: "Many of our parishioners hail from families with a history of fleeing conflict and poverty in the 19th and 20th Centuries to find a new home in Scotland.
"In the subsequent decades we have established an effective network of parishes that exist to promote the Christian faith and thus contribute to the common good."
Speaking on BBC Radio Scotland's Thought for the Day, the senior Scottish Catholic, Archbishop Leo Cushley, said he would be happy to welcome refugees to his home.
"This is the greatest migration of people into Europe since the Second World War," he said. "We are now facing something unprecedented since that time.
"As a visible example of our willingness to help, I too would be happy to give a home to somebody fleeing war or oppression.
"Hopefully, we can find each family their own home. Scotland is a big country, populated by big people with big hearts.
"Today, we ought to be able to welcome among us these people, real people, in real need, just as the Scots have always done in the past."
Ms Sturgeon has previously said Scotland should accept 1,000 refugees "as a starting point for a meaningful discussion" with initial funding of £1m being made available to co-ordinate the country's response.
Candelight vigils
Edinburgh City Council has announced that it will be taking in 100 Syrian refugees over the next 12 months while Glasgow City Council has already said it will house another 60 refugees on top of the 55 it already provides homes for.
Meanwhile, the leader of Highland Council has suggested that medical workers among refugees given shelter in Scotland could be offered vacant health care jobs.
On Saturday, thousands of people will attend Britain Sees Syria candelight vigils across Scotland to show solidarity for Syrian refugees and the victims of war.
Events will be held in Glasgow's George Square at 14:30 and in Edinburgh, Dundee, Shetland and Orkney.
The Dundee event has been organised by the Dundee University Students' Association and will take place on the Campus Green at 17:30.
Similar events will be staged across Europe.
Also on Saturday, St Mary's Cathedral in Glasgow will be hosting Glasgow Hears Syria, a musical response to the refugee crisis.
Funds raised by the event will be split between Amnesty International and the Migrant Offshore Aid Agency.