Question time for those at the top of Scotland's exam system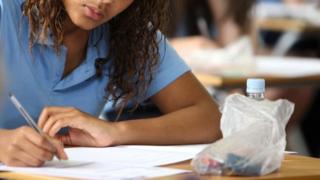 Many youngsters will wake up this morning both nervous and excited.
For some this will be one of the most exciting days of their lives, the day good exam results set them on the path to training, a good job, college or university.
Inevitably for others it'll be a day of disappointment.
It was ever thus.
This year is an important year for the exam system as new Highers are being phased in.
The uptake of the new Highers was lower than anticipated as many schools and councils chose to use the old ones for one further year.
Still it's good news the number of Higher passes was at a record level.
Too difficult
But there's a very real concern over one of the most commonly-sat of the Higher exams - the Higher maths.
The concerns of some students that the new-look exam was too difficult have been borne out. Grade boundaries have had to be lowered to make sure candidates got the grade they really deserved.
In itself, this isn't unusual and we won't know until later just how much the boundaries were lowered by.
Those who sat the new Higher maths shouldn't be unduly nervous today - hopefully the anxieties, even tears, of exam day will have turned out to be unfounded as the safety measures to protect candidates from unduly hard papers seem to have worked.
The issue is more why this happened in such an important year when the new Highers were under the microscope. Was the exam simply on the hard side? Or was it quite different to the kind of paper some teachers and candidates had been expected? These will be the tough questions of a different sort facing the Scottish Qualifications Authority and the Scottish government.
Another question will also be whether there's evidence of the attainment gap between students from relatively rich and poor backgrounds being narrowed.
Today is ultimately a day to celebrate the achievements of many learners and commiserate those who tried their best but didn't get the results they wanted.
But that shouldn't obscure a legitimate question about one of the most widely-taken exams in a year of change.