Sniffing the air with the Corpse Flower groupies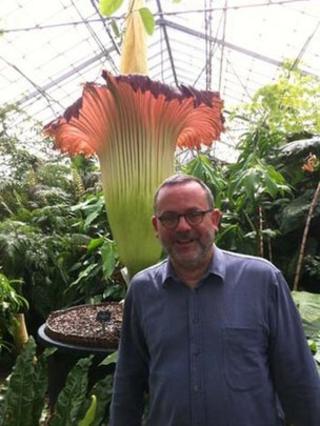 Standing in the queue to see the Royal Botanic Garden Edinburgh's (RBGE) flowering Titan Arum, one woman is happy to admit she's a Corpse Flower groupie.
"I came to see it every day, the last time," she admits. Last time, when it turned out the giant bud the plant had put out was just a leaf.
So, of course, she's back now that the corm has finally produced a giant flower.
One man says "I'll be really disappointed, if it's not smelly."
The queue takes just under an hour, leading someone to joke: "There's a lot of people going in. Not many coming out. Perhaps it's hungry?"
Eventually we get to the doors of the Montane Tropics House.
"You made it," one volunteer in a RBGE tee-shirt smiles.
Ten people are counted through the door, and we're in.
Past the exotic orchids in their cabinets. Past the bananas. Past the important collection of ginger plants.
There's only one thing we're interested in today.
And the last door is opened. I sniff the air anxiously.
Fridge odour
We were promised the stink of rotting flesh, mixed with fish, and perhaps a hint of sweaty feet.
I'm getting mostly the sort of smell that happens if you leave potatoes in the veg drawer of the fridge for too long.
Although, apparently, different people are sensitive to the chemicals produced by the plant in an attempt to attract pollinating insects.
Last night one member of RBGE staff was said to have been retching quietly in the corner, while everyone else watched the flower unfurl.
But if the stench isn't as impressive as predicted, the plant itself is stunning.
A giant white shaft, thrusting up to the roof of the glasshouse, surrounded by a ruff of purple.
Everyone stands and stares. We jostle, very politely, to get the best angle for a picture or two. Or three or four.
There's a short talk, and the chance to ask questions.
Then the guide suggests you can get a fantastic view, looking back at the flower from just over there. And, before you know it, we're being ushered towards the exit.
Outside one member of the public is swithering about whether or not to join the queue.
"It's worth it," I enthuse. And a couple walking past join in. "Absolutely, It really is."