Protesters in anti-austerity rally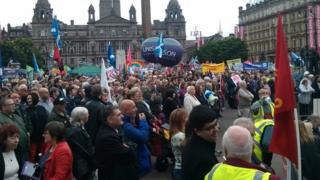 Thousands of people have attended a rally in Glasgow to protest against austerity.
The Scotland United Against Austerity event in George Square took place as a large demonstration was staged in London.
Grahame Smith, general secretary of the Scottish Trades Union Congress, which organised the rally, said austerity was "not sensible economic policy".
The government said austerity measures were vital to cut the deficit.
The STUC organised the protests with the People's Assembly, a broad anti-austerity movement.
Police said there were more than 1,000 people in the square but organisers claimed up to 10,000 had been involved at various stages throughout the day.
Mr Smith told BBC Scotland: "We know austerity does not work.
"It is entirely about ideology and it is about protecting the position of the already privileged in society."
The trade union leader added: "We have seen over the past few years the impact of austerity: growing queues at food banks; people being thrown out of their house because of the bedroom tax; and the unprecedented decline in real wages.
"But at the same time we have seen the rich getting richer. That's the impact of austerity and that's why we oppose it."
Mr Smith said the vast majority of the people in Scotland and across the UK did not vote for the Tory government and he questioned the legitimacy of its cuts.
A Treasury spokesperson said income inequality in the UK was lower than 2010 because the government's "long term plan is helping working people".
"The best way to help people across the UK is to deliver lasting economic security, which is why we're continuing to work through the plan to cut our deficit."
Other speakers at the rally included Larry Flanagan, general secretary of the Educational Institute of Scotland, and Pat Rafferty, Scottish secretary of Unite.
Meanwhile, First Minister Nicola Sturgeon was addressing the SNP Trade Union Group conference at a closed meeting in Stirling.
She said: "I want to offer my support to those marching with the STUC today against the harsh, deeply unfair Tory cuts that are causing real pain for many in Scotland and across the UK.
"Five years of Tory austerity has done too much damage already; working families and vulnerable people cannot afford further UK government cuts.
"At Holyrood and at Westminster, the SNP will continue to make the strong case for an alternative to austerity to ensure the most vulnerable people in our society do not continue to face the brunt of unfair Tory cuts."