Police Scotland celebrates 100 years of female officers
Scotland's most senior female police officer has said there are no ranks or roles closed to women in the force.
Deputy Chief Constable Rose Fitzpatrick was speaking at a passing-out parade at the Scottish Police College.
Almost 40% of the course's recruits are women, the highest proportion ever.
Police Scotland is celebrating 100 years of women in the service - although female officers were not permitted to wear trousers as part of their uniform until the 1980s.
An all-female party oversaw the parade at Tulliallan, with DCC Fitzpatrick joined by Assistant Chief Constables Kate Thomson and Val Thomson and minister for youth and women's employment Annabelle Ewing.
Ms Fitzpatrick said there were "fewer and fewer" obstacles for women in the police force, which she said could provide "a great career".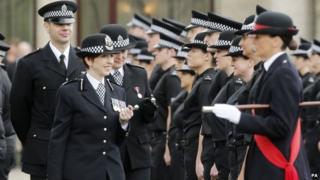 She said: "There were many forces 100 years ago and women weren't encouraged to join in the service because they were very limited in the roles that they could do.
"They were largely dealing only with other women and children.
"Since then society has changed and policing has changed, and today we are celebrating the fact that there is no role or rank that women in Police Scotland cannot do.
"We have women firearms officers, marine officers, women in our mounted branch, roads policing officers, counter-terrorism officers and investigators.
"We also have many women in local policing serving their communities right across the country."
'Fantastic achievement'
Ms Ewing added: "Of the new recruits, some 38% are women, which I think is a fantastic achievement.
"It's very important that our police force in Scotland reflects the society that it serves so well.
"All roles and all ranks are appropriate for women.
"Women have much to add to any profession, and the same goes for the police force in Scotland.
"It was only 1937 that women police officers were allowed to take fingerprints, the 1970s that women were allowed to participate in dog handling, or wear trousers as part of the uniform in the 1980s, so we have come so far."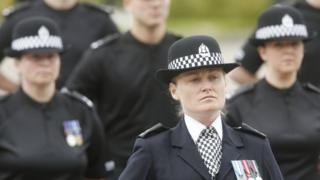 ---
Trailblazing women in policing in Scotland
1915 - 1918 -Emily Miller joins City of Glasgow Police & Jean Thomas joins Dundee City Police.
1918 - 1919 -Chief Constables asked to consider appointing women within their forces "where necessary".
1922 -Chief Constable of Dundee City is forced to publicly deny he had a woman working as a Constable (even though he did have one).
1924 -On 14 June 1924, women constables granted the power of arrest.
1940 -Miss Jean Malloy was promoted to Detective Sergeant and became the first woman in Scotland to gain rank.
1954 -Miss Janet Gray is promoted to Chief Inspector - and later Superintendent - and for the first time, there are uniformed Sergeants.
1962 -Policewomen 'attached' to CID recognised as "Detective Constables".
1968 -Policewomen allowed to remain in post after marriage, with the intention of retaining experienced officers.
1976 -Policewomen to be known as Constable, Sergeant, etc, rather than WPC, WSgt, etc, creating equality with male colleagues.
1986 -Amendment made to the Sex Discrimination Act enabling women to retire at the same age as men.
1995 -Promotion of Superintendent Sandra Hood to become the first woman in Scotland to hold the rank of Chief Superintendent, and be put in charge of a police division - she is later appointed as Scotland's first female Assistant Chief Constable.
2006 -Margaret Barr appointed Director of the Scottish Police College at Tulliallan - she is the first woman, and the first serving police officer, to hold the title.
2008 -Norma Graham became Scotland's first female Chief Constable, at Fife Constabulary.
2012 -Rose Fitzpatrick appointed as first female Deputy Chief Constable of Police Scotland.