College staff felt 'forced' to leave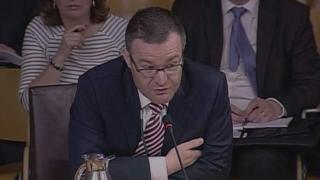 Some college staff felt "forced" to leave their posts due to Scottish government reforms of the sector, according to a teaching union.
A total of 1,307 took voluntary severance deals between 2011 to 2014, at a cost of £46.6m.
But David Belsey, from the EIS union, said not all were truly "voluntary", as some felt they had no choice.
He was giving evidence to a Holyrood committee examining the impact of college mergers.
He said: "Many people, I'm sure, are pleased to have taken voluntary severance money and left the sector, but there are others who didn't want to leave he sector but financially had no alternative but to accept the deal, because it was better than the contractual deal.
"A little bit of care must be taken around the term voluntary severances because some people may have felt that they were forced to leave and had no choice.
"I've spoken to individuals who felt they had to go because the deal that was being offered by the college was far better than what they would get if they'd stood and tried to fight it by a statutory redundancy payment."
Compulsory redundancies
Caroline Gardner, the auditor general of Scotland, briefed MSPs on the Public Audit Committee on the number of severance payments.
She said there had also been some compulsory severances between 2011/12 - 2013/14, despite former education secretary Michael Russell stating in 2011 they had "no place" in Scotland's college sector.
Ms Gardner also highlighted figures, first published in April, showing the number of students at Scotland's colleges had fallen by 19,500 since 2011-12.
Labour MSP Iain Gray said budget and staff cuts had damaged the college sector.
He said: "Despite the SNP government's rhetoric, it's clear that 'voluntary' redundancies doesn't mean every one of the 1,300 staff were happy to go - many didn't feel they had an option.
"Compulsory redundancies are still happening too, as we've seen recently for 13 catering staff whose jobs are under threat at Glasgow Kelvin College.
"If the SNP value further education at all, they haven't shown it. Cutting students, staff and budgets isn't the way to improve education and skills and, in turn, the economy."
'Student success'
But the Scottish government said it had done all it could to avoid compulsory redundancies.
A spokesman said: "Through the process of reform, the Scottish government made clear our expectation that colleges avoid compulsory redundancies.
"Ministers have done all in their power to encourage colleges to follow that lead. Ultimately however, staffing decisions are a matter for individual colleges as the employer.
"Thanks to the efforts of college leaders and teaching staff, we have seen marked improvements in student success rates. Our priority is to build on this while completing the implementation of our reforms."