Figures show 18% rise in deaths in Scotland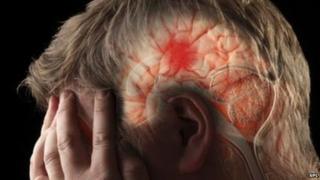 The number of deaths in Scotland rose by 18% in the first quarter of this year, according to official figures.
Statistics from the National Records of Scotland showed that a total of 16,521 deaths were registered between 1 January and 31 March, the highest number since 2000.
Deaths from stroke rose to 1,317 in the three-month period, an increase of 20% on the same period in 2014.
Coronary heart disease claimed 2,008 lives, an increase of 12%.
The provisional figures from the National Records of Scotland showed there were also 4,072 deaths from cancer during the three months - a rise of 4.2%.
The Scottish government said detecting the early signs of cancer and fighting heart disease and stroke were priorities for the NHS.
'Clinical priorities'
Public Health Minister Maureen Watt said: "The number of people in Scotland living for up to five years after a cancer diagnosis has reached a record high.
"Survival rates are lowest in patients whose cancers present at an advanced stage, which is why we have spent £39m on our 'Detect Cancer Early' campaign to encourage those with potential symptoms to visit their GP as soon as possible.
"Heart disease and stroke remain clinical priorities for NHS Scotland and in 2014 we published improvement plans to support better outcomes.
"Substantial investment and redesign in cardiology services contributing to a reduction in mortality rates from coronary heart disease by more than 43% in the last 10 years, with stroke deaths down by 41% over the same period."
The National Records of Scotland has today published provisional figures showing an increase in people dying from cardiovascular disease in the first quarter of this year.
Overall deaths are up 18.4% on the same quarter in 2014. Compared with the same period in 2014, the number of deaths from coronary heart disease rose by 12.4 per cent to 2,008, deaths from stroke increased by 20.2 per cent to 1,317, meaning that deaths from all cardiovascular disease were up 16% to 4525.
The British Heart Foundation Scotland (BHF) said that while the figures may look bad, there has been a downward trend in cardiovascular related deaths.
Cardiac care nurse Doireann Maddock said: "On the face of it, this looks like bad news for the fight against heart disease. But we have to look at the figures proportionately.
"As a proportion of overall deaths, deaths from cardiovascular disease (heart and circulatory disease) are down to 27% compared with 28% in the first quarter of 2014. This is the lowest figure since before the BHF came into being in 1961.
"Premature deaths from cardiovascular disease (in people aged under 75) are down from 22% of the total last year to 21% this year.
"We know that more people die of cardiovascular disease in the winter months. Overall, the trend is for fewer people to die from cardiovascular disease, thanks to medical and research advancements, but for more people to be living with it. In Scotland 680,000 people are living with cardiovascular disease."
Births and marriages
Newly-published statistics also showed a total of 462 same-sex marriages took place during the first full quarter since the Marriage and Civil Partnerships (Scotland) Act 2014 came into force in December.
The number of marriages rose by 9.6% to 3,889, while the number of civil partnerships fell by 57 to 20.
A total of 13,320 births were registered in Scotland - 4.4% down on the same period in 2014.