Scottish Labour warning over modern languages decline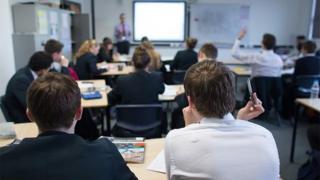 Labour has raised concerns about a drop in the number of students gaining a qualification in modern languages including French, German and Chinese.
At First Minister's Questions, Labour leader Kezia Dugdale also highlighted a drop in the number achieving a qualification in Gaelic.
Research by Strathclyde University, draws attention to a long-term decline in the number achieving a qualification in French or German.
In 1996, around 40,000 got a Standard Grade pass in French at either foundation, general or credit level.
By 2011, the number was down to about 30,000 and in 2014 it fell to below 20,000.
The number studying German roughly halved over the same period and also dropped significantly in 2014.
Such a drop inevitably prompts important questions and will concern some: a qualification in a language can be an important step towards achieving fluency in it and nobody disputes the importance of fluency in second or third languages to the development of a skilled workforce.
---
Labour highlighted the research by Dr James Scott, published in the Scottish Languages Review, which said that in the first year of the new exams:
The number of candidates studying Level 3/4/5 German, French or Chinese fell by 37%
The number of candidates passing Level 3/4/5 German, French or Chinese fell by more than 40%
The number of Gaelic Learners at Level 3/4/5 fell by more than 20% and the number passing these exams fell by more than a quarter
---
But there is an important - and vital - explanation which puts the significant drop in 2014 into context, if not the long term decline - the replacement of Standard Grades with the new National qualifications.
Students studied for their Standard Grades over third and fourth year. Most students studied seven subjects, sometimes more.
The National 4s and 5s are taken in fourth year and the courses only last a year. The number of subjects being studied varies from school to school but it is not uncommon to only study six subjects to qualification level.
Inevitably, this means there has been a drop in the numbers taking a qualification in many subjects.
Unhappy parents
Some parents have expressed unhappiness about what they see as their children's choices for qualifications being narrowed, fearing the academically able were in effect choosing their Highers a year earlier than before - supporters of the changes argue all students now receive a "broad general education" until third year rather than second year.
It is worth noting that in recent years the decline in the number of students sitting a Higher in French or German has been far less stark: between 2010 and 2014 the total fell 2% in French and 4% in German.
There is also a distinction to be made between gaining a qualification in a modern language with simply gaining some meaningful knowledge of the language.
Not so long ago, languages like French or German were usually only taught in secondary schools.
Today languages are introduced to primary school children. It's hoped that children should start to learn one additional language early on in primary school with a second later on.