Law change proposed to help ex-offenders find work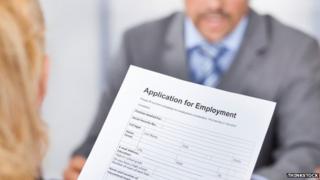 The Scottish government has announced measures to help convicted offenders find work.
It comes as figures show three-quarters of employers admit they discriminate against job applicants with a criminal record.
Ministers are to consult on proposals to modernise the law.
This would reduce the length of time during which an offender sentenced to less than four years in jail would have to disclose their convictions.
But the government stressed the change would not affect those convicted of serious offences or those seeking work with children or the elderly.
Those sentenced to four years or more in prison will always have to disclose their convictions.
The same rule currently applies to those jailed for between 30 and 48 months.
It is proposed to change the law so that offenders would no longer need to declare convictions after six years had elapsed from the end of their sentence.
Paul Wheelhouse, minister for community safety and legal affairs, said the proposals would allow more people with a criminal history to move away from their past offending behaviour and stop the "revolving door" in Scotland's prisons.
He said: "It is absolutely right that those who have committed crimes serve their sentences, but it is equally important that once those who have committed crimes have paid back, they are allowed to try and move on with their lives in a positive way.
"We know that getting people back into a job drastically reduces their chances of reoffending as it gives them financial security, a stable environment, routine and improves their self-esteem.
"Often, these individuals also have children and families to support, so by improving access to employment not only benefits those with criminal convictions, but wider society too, and reduces inequality."
One in three men in Scotland has a previous criminal conviction, so Mr Wheelhouse said the issue of disclosing those convictions for longer than is necessary needed to be addressed.
A research report said the majority of employers admitted they discriminate against job applicants, while the government said it was eight times more difficult for an ex-offender to get a job than for someone with a clean record.
The announcement of the government's intention to change the law was made at the Working 2Change conference in Edinburgh, attended by experts and employers from across the UK.
'Sensible solution'
Sir Harry Burns, professor of Global Public Health at Strathclyde University, and a former chief medical officer for Scotland, said: "A criminal record can make it impossible to lead a normal life. Having a job, however, enhances a person's ability to take control and live normal, productive lives.
"They are far less likely to reoffend and ultimately we all stand to benefit when our communities are more inclusive.
"Children who experience adversity in early life often have problems relating to others and, as a result, they are much more likely to end up with a criminal conviction."
Richard Thomson, director of the charity Recruit With Conviction, said: "People with minor criminal convictions can all too often find the path blocked to employment. This can lead to increased levels of poverty.
"The steps by the Scottish government, announced in the consultation today, are positive in helping ensure people no longer have to tell recruiters about old and minor convictions is a sensible solution to help more people find work and stay in work."