Alex Salmond predicts vote-by-vote deal with Labour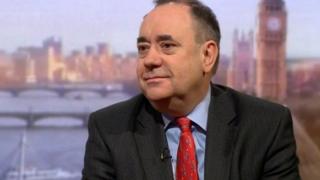 Alex Salmond has predicted a "vote by vote arrangement" between a minority Labour government and the SNP is the most likely outcome of the election.
Scotland's former first minister said his successor as SNP leader, Nicola Sturgeon, would lead the negotiations.
Mr Salmond also said he wanted the SNP to form a "progressive coalition" with Plaid Cymru and the Greens.
Scottish Labour leader Jim Murphy said his party was "still confident" of winning the election outright.
And he predicted the SNP would feel the "full fury of the Scottish people if they saved David Cameron's skin".
Mr Salmond's comments were also seized on by the Tories, with defence minister Anna Soubry branding them "terrifying".
'Big differences'
Recent polls have suggested the SNP is on track to win the vast majority of seats in Scotland at the expense of Labour and the Liberal Democrats in the 7 May general election.
Last week, Labour leader Ed Miliband ruled out forming a coalition government with the SNP in the event of no single party winning an overall majority in the Commons.
But Mr Salmond told the BBC's Andrew Marr show that Mr Miliband had not ruled out a less formal arrangement, where the SNP might lend its support on an issue-by-issue basis.
Mr Salmond, a candidate for the Westminster election in the Gordon constituency in the north east of Scotland, said: "I did four years as a minority government and at the end of four years the people of Scotland decided to give the SNP an overall majority.
"That does indicate there was a pretty substantial satisfaction with the four years of minority government."
'More progressive'
He added that he hoped the SNP bloc at Westminster after the election would help move the Labour party in a "more progressive" direction, "moving away from austerity".
Meanwhile, Jim Murphy told BBC 5Live that the SNP had told people to vote anyone but Labour, adding that the SNP were "interested in the disruption and the demise of the Labour party".
He also predicted there would be a backlash against the SNP in Scotland if the party was seen to have helped David Cameron remain in power.
Defence Minister Anna Soubry, who also appeared on the Andrew Marr show, said that the thought of Mr Salmond controlling a Labour government "fills me with absolute horror".
"The audacity is astonishing. There was a wonderful debate in Scotland, you lost it. We are a United Kingdom, that is what the people of Scotland wanted."