First Minister Sturgeon backs Police Scotland boss Sir Stephen House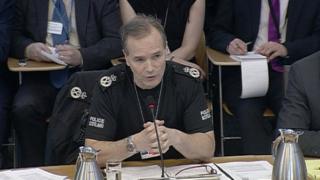 First Minister Nicola Sturgeon has said she has "full confidence" in Police Scotland boss Stephen House.
The chief constable of the country's single police force has faced controversy over the service's stop-search policy.
At First Minister's Questions, Ms Sturgeon was asked if she would give her backing to Sir Stephen.
She told Holyrood: "Yes I do, I still have full confidence in Chief Constable Sir Stephen House."
The policy of stop-and-search is currently under review and Ms Sturgeon said a report would be with Justice Secretary Michael Matheson by the end of March.
The spotlight was put on the issue when BBC Scotland research revealed that children under 12 were being stopped and searched, despite a promise by the police that the practice would stop.
Sir Stephen told the Scottish Police Authority (SPA) the statistics given to the broadcaster were "not 100% accurate" and were "not fit for public consumption".
He also claimed that he had been forced to release the data by the Information Commissioner.
However, he later qualified his comments to MSPs saying he had "made a mistake in the language". Sir Stephen denied claims that trust in the police had been eroded over the stop-and-search controversy.
At FMQs on Thursday, Labour MSP Elaine Murray asked: "Does the First Minister still have confidence in Chief Constable Sir Stephen House as it has been revealed that Police Scotland data has been lost, wrongly recorded, incorrectly disclosed and now manipulated?"
Ms Sturgeon responded: "Yes I do, I still have full confidence in Chief Constable Sir Stephen House.
"Stephen House is leading a police force that is helping to ensure that we have low crime levels in this country and I think we should all get behind and express confidence not just in the Chief Constable of Police Scotland, but in all the police officers who work so hard, often putting their lives on the line, for us on a daily basis."
Academic freedom
During her weekly Holyrood Q&A, the first minister also came under pressure over a report in the Sunday Herald that claimed officials and Police Scotland had sought to influence the content and publication of research into the use of stop-and-search by Kath Murray, a PhD student at the University of Edinburgh.
Liberal Democrat justice spokeswoman Alison McInnes accused the government of "overstepping the mark" and interfering in academic freedom.
She said: "Government officials and spin doctors persuaded an academic to delay publication of her damning research on stop and search for two days.
"They then embarked on a frantic round of emails and discussions to create a ministerial event designed to rubbish the report ,and they held that in those two days.
"The emails show the first minister's justice department manipulating all of this."
Ms Sturgeon said that as the research had been co-funded by the Scottish government, analysts were invited to comment on it and had provided factual feedback on technical issues "in line with standard practice".
She said: "Ms Murray approached Scottish government officials seeking views on the publication date to avoid scheduling clashes, I understand though that the final date of publication was decided by her."
Ms Sturgeon said she agreed with Ms McInnes that academic freedom was "sacrosanct".