Call for new laws to tackle legal highs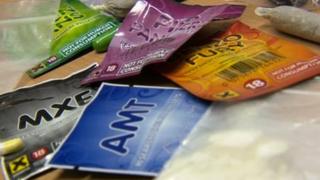 New legislation may be needed to tackle the problem of so-called legal highs, a report has said.
Experts studying new psychoactive substances (NPS) said the Scottish government should work with the Home Office to create new laws.
Drug legislation is currently reserved to Westminster.
But police said tackling the problem could be like "chasing a bouncing ball," as NPS producers change their recipes slightly to get round new laws.
An independent expert review group which was established in August 2014 has published its report, recommending a range of measures to tackle the problem.
It says the Scottish government should consider working with the Home Office to adapt key elements of the Irish approach to the problem.
Legislation, introduced in Dublin in 2010, banned the sale of all psychoactive (brain altering) drugs and then exempts some, such as alcohol and tobacco.
It is credited with effectively eliminating all shops selling NPS in Ireland, which a United Nations (UN) report said had the one of the highest consumption rates of the drugs in the world.
The other recommendations from the expert group include:
Restrict the sale of NPS and drug paraphernalia when public entertainment or similar licenses are issued
Establish a national centre of excellence in forensic analysis to detect and identify NPS in Scotland
Develop a definition of NPS for adoption across Scotland
Produce a tool-kit and operational guidance to help frontline trading standards staff tackle NPS.
The Scottish government said it would look closely at the recommendations and take further action to clamp down on this "increasingly challenging problem".
The Minister for Community Safety and Legal Affairs, Paul Wheelhouse, told Holyrood there was no "silver bullet" to deal with the problem of legal highs.
He said: "The fact their ingredients are unknown and untested is particularly worrying, and we have seen tragic incidents where these substances have caused huge harm to users, even death.
"I welcome all the expert group's recommendations. The report shows that in some areas, the necessary powers to tackle NPS are available, but these can be made more effective."
Police can take action against those selling NPS using common law powers - although these are subject to legal challenge.
Det Insp Stevie Russell, head of Serious and Organised Crime Interventions at Police Scotland, said bespoke legislation was needed.
However, he acknowledged there were potential problems.
"We'd be constantly chasing a bouncing ball, because the products would constantly evolve and change to fall outwith the banning orders," he said.
"All they (the suppliers) do is to change the molecular structure of the compound by the slightest bit."
He said police would like to see the burden of proof altered so suppliers were obliged to show their drugs were safe.
Heart attacks
Currently law enforcement must show they are dangerous - a process which requires research over many years.
Dr James Dear, consultant toxicologist at NHS Lothian, said hospitals were seeing an increasing number of patients suffering from the effects of taking artificial stimulant drugs.
He said doctors were concerned at the dangers presented by NTS.
"They can be very serious - heart attacks, damage to the heart, can occur; damage to the kidneys can occur.
"A patient can get very hot and overheat, and almost get heat stroke.
"And the patient, when they're very agitated, can harm themselves, so some patients will either deliberately self-harm or they will undertake some risky behaviour like being hit by a car or jumping off a bridge."