Shooting estate raided over dead peregrine falcon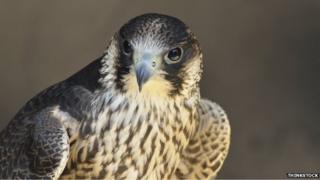 Police have raided a shooting estate in Stirlingshire after a peregrine falcon was poisoned with a banned pesticide.
A red kite, which had also been poisoned with carbofuran, was found last year on the same estate, which has not been identified by police.
Officers said they believed the incidents were evidence of an "ongoing and intentional effort to poison wildlife" at the estate.
They carried out searches of the estate on Friday.
A Police Scotland spokesman said: "In July 2014, a member of the public contacted police to report a dead red kite on the same estate.
"Subsequent investigation revealed this bird was also poisoned with the same banned pesticide. There was no release of information to the general public at this time for operational reasons.
"It is evident that an ongoing and intentional effort to poison wildlife is occurring at this location and we will be working closely with the relevant partners and using all investigative techniques at our disposal to identify the offender(s) and bring them to justice".
He appealed for anyone who has any information about these or other similar incidents to contact the police.
The spokesman added: "We all have a duty to protect the environment and it is imperative these criminals are caught".