SFA to ask fans about ending alcohol ban at Scottish football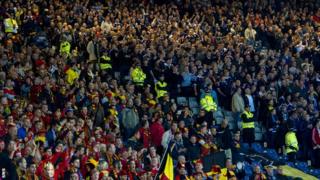 The Scottish Football Association (SFA) has said it will seek the views of fans on whether alcohol should be sold at stadiums during matches.
It said it wanted to "build a case" in favour of lifting the ban.
Police Scotland Chief Constable Stephen House said he would "enter into formal discussions", if an independent consultation finds widespread support for the idea.
Scottish Labour is campaigning for the alcohol ban to be dropped.
Such a move is also favoured by the Scottish Conservatives.
The Scottish government has said it has "no plans" to change the policy.
The ban was initially imposed following a riot at the 1980 Scottish Cup final between Rangers and Celtic but alcohol can be served in corporate hospitality areas of football stadiums.
The SFA said it would hold focus groups and poll football supporters on the issue.
The head of Police Scotland, Chief Constable House has written to SNP MSP George Adam, who is also campaigning to get the ban lifted.
The chief constable said he would be "extremely concerned by any proposal to amend legislation in respect of alcohol at football matches in Scotland".
However, he said if the outcome of an independent public consultation backed the idea then "we will of course enter into formal discussions with the footballing authorities".
Scottish Labour has been canvassing the views of fans at matches this weekend and has said it will hold a "summit" on the issue.
Party leader Jim Murphy said football fans should not be treated differently from rugby supporters at Murrayfield, where drinking is permitted.
The party has arranged a meeting at Hampden on Friday and has invited representatives from the Scottish Football Association, football clubs and Police Scotland to attend.
Last December, Mr Murphy told the BBC Scotland's Off the Ball radio programme that he was in favour of trialling the return of alcohol to stadiums in order to "improve the experience of the supporter".
On Saturday, the Labour leader and other party members handed out questionnaires to fans at St Mirren's match against Inverness Caledonian Thistle.
He also attended the Hamilton Academical v Aberdeen game at New Douglas Park to collect more signatures and copies of the survey were being handed out to rugby fans at Murrayfield.
Mr Murphy said: "If you go to a rugby match in Scotland you can drink. If you go to a football match in England you can drink. If you go to a football match in Scotland, in hospitality, you can drink.
"Why is it that these folk who come to games like this all across Scotland are not allowed by law to drink?
"We know there has been a problem in the past but this group of supporters shouldn't have to pay for the mistakes of their grandfather's generation."
He urged fans to fill in the survey and said: "Let's see if we can persuade football and the police to do this in a careful way."
Social Justice Secretary Alex Neil told BBC Scotland that reintroducing the sale of alcohol would threaten the game's status as a "family event" and could lead to a rise in football-related domestic violence.
He said: "We don't believe now is the right time to reintroduce alcohol into football.
"The fact is that when we were selling alcohol at football matches there were many more problems in terms of crowd behaviour than there is today.
"We have made a lot of progress so let's not turn the clock back. Let's keep with that progress, keep it a family game and if people then want to do for a drink after the game then they are free to do so."
The Scottish Conservatives said they suggested lifting the ban 18 months ago.
The party's deputy leader Jackson Carlaw said they supported a "measured and limited reintroduction of alcohol to enhance the experience for those people who when they are out socialising would quite like to have a drink."