Police Scotland wants new child search powers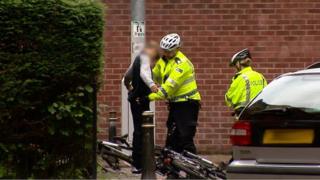 Police Scotland wants a new power to search children and young people for alcohol.
It is among the measures the force thinks may be needed to replace non-statutory stop-and-search.
Chief Constable Sir Stephen House attended a special meeting of the Scottish Police Authority (SPA) on Friday.
It was called after BBC Scotland revealed police had not discontinued searching under-12s as promised.
Sir Stephen said the force had not wanted to release the stop-and-search data because it was "not fit for public consumption".
The police now intend to consult on ending non-statutory or "consensual" stop-and-search for all age groups.
But they believe this will leave gaps in their ability to protect the public that must be filled.
Illegal items
Tackling under-age drinking and the anti-social behaviour and crime associated with it is one potential problem.
At the moment, officers can confiscate alcohol from under-18s but have no specific power to search for it.
Deputy Chief Constable Rose Fitzpatrick told the meeting: "The big issue at the centre of all of this is that we have no power to search under-18s for alcohol.
"That leaves us with a gap... However you play this, that would be a significant consequence and a loss I think, so we would need to plug that gap."
The police would like the law changed to grant them that power before they give up "consensual" searches.
Officers have statutory powers to stop-and-search for illegal items such as guns, knives or drugs.
But they make much wider use of a non-statutory power to search people who give their consent.
Of the 640,699 searches recorded by Police Scotland in its first year, alcohol was the main reason for almost a third of them.
Of the 201,126 alcohol-related searches, most of which were non-statutory, about 40% involved under-18s.
In 25,846 cases, young people stopped and searched by police were carrying alcohol.
But concerns have been raised about the capacity of younger children to give informed consent to be searched.
Last June, Police Scotland said it would stop "consensual" searches on children under the age of 12.
Last week, there was an outcry at Holyrood after it emerged that hundreds of children had been searched since then.
Sir Stephen has called for an open debate on alternatives.
"We need to consider a range of measures that could replace the current policing tactic of consensual stop-and-search," he said.
Known housebreakers
It is understood that the Association of Scottish Police Superintendents has previously argued for a specific power to search for alcohol.
The Scottish Police Federation, which represents rank and file officers, is not convinced that goes far enough.
The federation's general secretary, Calum Steele, said ending "consensual" searches would leave "almost innumerable" gaps in police powers.
In particular, he said it would be difficult for officers to search known housebreakers without specific intelligence that they had re-offended.
HM Inspector of Constabulary, Derek Penman, has carried out an audit of stop-and-search and is due to report by the end of March.
He is expected to recommend a shift towards greater use of statutory powers and improvements in officer training and how searches are recorded.
Speaking ahead of the SPA meeting, a Scottish government spokeswoman said it would explore whether any legislative changes are required once the process has been completed.