Sir Stephen House calls for stop-search consensus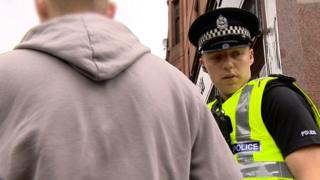 The chief constable of Police Scotland has called for a "consensus" on the practice of stop-and-search.
Sir Stephen House was responding to a letter from rank-and-file police officers, which defended stop-searches.
It said they were carried out "in an effort to combat crime and to keep the public safe".
Sir Stephen said Scotland needed to find the right balance between keeping people safe and the rights of the individual.
Scottish Conservative leader Ruth Davidson has called for a "wholesale review" of how Police Scotland is held to account.
She said the public were being "left in the dark" when massive changes are made to the way officers in Scotland work.
Police in Scotland have the legal power to stop and search members of the public in certain statutory circumstances when they have "reasonable suspicion" that they are in possession of drugs, an offensive weapon or stolen property,
But in other cases they may ask people if they "consent" to a search.
Proposed legislation
Police in England and Wales are not allowed to do this.
Last week, a BBC investigation revealed there were 436,288 stop-searches between January and November last year, with 654 involving children aged under 12. The vast majority were "consensual".
London's Metropolitan force - which polices a population greater than that of Scotland - searched 19 children under nine in the last year, compared to 159 by Police Scotland.
First Minister Nicola Sturgeon told MSPs on Thursday that she had spoken to Sir Stephen following the BBC story.
She said Police Scotland was considering ending non-statutory or consensual stop-and-search.
The Scottish Liberal Democrats also announced they are to bring forward legislation to make consensual stop-and-search illegal.
But Calum Steele, general secretary of the Scottish Police Federation, which represents 98% of Scottish police officers, sent an open letter to MSPs which claimed ministers were in danger of acting unlawfully if they banned the searches.
He described the idea that politicians and the chief constable can decide which laws should be applied and when as "frightening".
'Properly protected'
The chief constable said the federation had rightly highlighted the importance of stop-and-search in the prevention of crime and violence in Scotland.
Sir Stephen said: "Scotland needs a consensus on stop-and-search as we go forward.
"As I indicated last week, we need to consider a range of measures that could replace the current policing tactic of consensual stop-and-search.
"In doing so we need to be able to balance society's expectations with powers which ensure that the public can continue to be properly protected."
The chief constable pointed to regional differences in stop-and-search activity to show that it was an "evidence-led" tactic.
Scottish Conservative leader Ms Davidson said: "Major changes - such as the routine arming of police officers - are happening with people given little or no notice. That's simply wrong.
"If police chiefs are going to make controversial changes to the way they watch over us, whether it be stop and search or more speed cameras, then the public deserves to know about that."
Meanwhile, the Scottish Police Authority, the force's watchdog, has called a special board meeting for Friday, to discuss the use of stop-and-search.
The authority has asked the force to explain why "consensual" searches were carried out on hundreds of children under the age of 12 after the police had announced an end to the practice.