Self-harm among children in Scotland on the rise
By Marc Ellison
Data journalist, BBC Scotland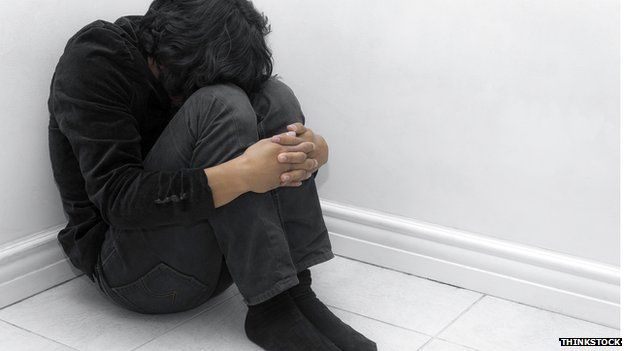 The number of children admitted to hospital for self-harm has doubled in parts of Scotland over a five-year period, according to data obtained by the BBC.
A twofold increase in cases were reported by NHS Ayrshire and Arran, and NHS Highland, during that time.
Last year, 563 under-18s were admitted for self-harm in Scotland.
But one mental health charity said these "very concerning" figures were just the tip of the iceberg.
Nigel Henderson, the chief executive of Penumbra, said self-harm was often a private coping strategy, and many more young people fear stigmatisation, deliberately avoid contacting services, or do not know who to turn to for help.
Many young people tend to self-harm as a way of coping and managing unresolved feelings, tensions and distress in their lives.
He said: "Young people who do seek help may approach A&E departments, their GP, staff at their school or college, or specific mental health services for support and this makes it very difficult to accurately record the overall number of people who self-harm.
"Problems at school, parental pressure to succeed or feeling of low self-esteem, alongside changes in local authorities' services, welfare reform and local youth unemployment, may all have had an impact on the figures."
The latest data - collated by BBC Scotland from a series of co-ordinated freedom of information requests - corroborated this upward trend, revealing that the number of young people admitted for self-harm has increased across many of Scotland's health boards.
The number of teenage admissions has doubled in recent years in Ayrshire and Arran and in Highlands, according to data from the health boards.
In 2014, more than a third of the 76 admissions to NHS Highland's hospitals involved 15-years-olds, while 88% were female.
However, a 2006 report cautioned against viewing self-harm as a greater problem for young women.
It said young males may well engage in different forms of self-harm, such as hitting themselves or breaking bones, which may be easier to hide or to be explained away as the result of an attack, an accident or a fight.
'I didn't know where else to turn': A self-harm case study
Nikki was a teenager when she first self-harmed.
"There's a lot going on for any 16-year-old.
"I internalise a lot of things - I don't take my anger out on anything or anyone.
"I didn't know what else to try, I didn't know what else to do, I didn't know where else to turn.
"Self-harm is a coping mechanism - just like some people smoke."
Finally it was Nikki's GP who suggested she refer herself to the mental health charity Penumbra for help.
Now, years later, she's a volunteer with the organisation.
"When I talk to people about my experience, it lets them know that they're not alone.
"I tell them to speak to friends, or a teacher - but speak to someone and ask for help."
Nikki says she has found other ways to deal with her stress.
"I love my comedy, so I'll put on maybe 'Priscilla Queen of the Desert' on, because of the music and the laughter.
"Or I go for a bath - and I love the beach, and I love being with nature and sitting by the sea."
Iona Colvin, director of the North Ayrshire Health and Social Care Partnership, said the awareness of self-harming and suicide among young people had increased over the past few years.
"The issue is more apparent now, partly due to improved recording methods and better availability of support; more young people than before are accepting that it is okay to seek help," she said.
A spokesman for NHS Highland said the fluctuations in the five-year figures showed "there is not necessarily a clear upwards trajectory".
He added: "Perhaps the most significant figures concern the high numbers of females as opposed to males being admitted, which perhaps reflects wider societal pressures relating to body image."
The board now employs mental health workers to provide education to staff working within schools, which includes input for programmes attempting to tackle low self-esteem and body issues.
The number of children admitted for self-harm also increased by 57% in Shetland and by 41% in Lanarkshire between 2009 and 2014.
The most admissions (141) in 2014 were reported by NHS Grampian and were primarily related to drugs (78%) and alcohol (15%).
The Scottish government acknowledged that demand for children and adolescent mental health services was increasing.
A spokesman said funding for mental health services had been protected.
"There has been a significant investment of £16.9m since 2009 to deliver faster access to specialist child and adolescent mental health services.
"We have also announced an additional £15m to be invested over the next three years, part of which will be used to increase the workforce in this area."
Mr Henderson, from Penumbra, said that the current government policy encouraged a more preventative or early intervention approach for health and wellbeing services.
However, he said councils and the NHS were having to focus on providing services for people currently in crisis or requiring substantial support.
He said: "We have seen some funding for preventative services being withdrawn across Scotland and there is no sign of a demonstrable shift to more preventative or early intervention approaches.
"This is primarily due to the reduction in funding for local authorities."