How is the 'killing the SNP stone dead' project going?
Brian Taylor
Political editor, Scotland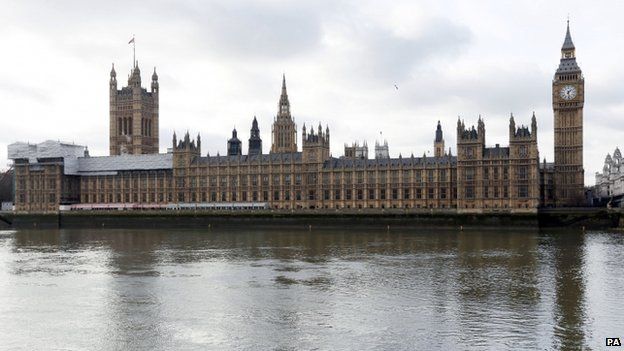 George Robertson was Labour's Shadow Scottish Secretary prior to the General Election in 1997.
(Ok, ok, so you were at school then, bear with me.)
In that role, he attended umpteen endless meetings to finalise the agreement in the cross-party Constitutional Convention which resulted, eventually and after much more endeavour, in the devolved Parliament we have today.
In my role as a seeker after truth, I was always to be found palely loitering on the margin of these meetings. After each, it was my custom to interview participants.
On one occasion, during one such interview, George Robertson told me that devolution would "kill the SNP stone dead".
Of course, there have been other minor indicators that Plan Robertson was somewhat awry. For one, the presence of an SNP majority government at Holyrood. For another, a series of Scotland-wide polls suggesting a substantial SNP lead.
But Lord Ashcroft's poll is notably sore for the SNP's opponents, indicating as it does a significant SNP advance. The peer polled 1,000 voters in each of 16 Scottish seats, mostly choosing to investigate areas where there was a big Yes vote in the referendum.
His data suggests that the SNP would take 15 of them - including the seats held by Danny Alexander, Douglas Alexander and Margaret Curran. Alex Salmond would win in Gordon.
Only William Bain, in Glasgow North East, would surmount the SNP tide.
Follow the election story
Keep up-to-date with all the twists and turns of general election campaigning by going to our politics pages.
Have a look at our poll tracker of the UK-wide picture.
Ahead of publication, the prospect of these polls was the talk of the steamie at Holyrood. (No, they don't actually have a steamie. David Steel wouldn't pay for it.) And such was the case again this morning.
SNP folk couldn't decide whether they were delighted - or fearful. The former because their party is said to be winning and winning well. The latter because of the danger of complacency.
Privately, the party strategy will be to manage expectations downwards in order to maintain momentum. They stress their focus: that they would stand up resolutely for Scottish interests, particularly in a hung parliament at Westminster.
Labour? This much we knew, say they. It confirms they are in a fight. Jim Murphy, they say, has not yet had sufficient time to make a real impact. And they repeat their core message - to the effect that success for the SNP in Scotland, at the expense of Labour, makes a Tory victory more likely across the UK.
The 16 did not include Scotland's sole Tory-held constituency. Ashcroft deliberately targeted Labour seats in and around Glasgow plus Dundee West and the Lib Dem held Gordon and Inverness.
And the Lib Dems? They see the polls as suggesting that they are "best placed to stop the SNP in Aberdeenshire and the Highlands."
That is, I suppose, one way to look at things.