Scottish Women's Aid warns over abuse care cuts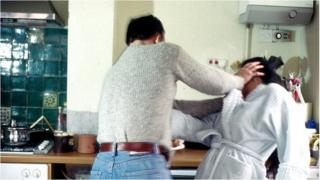 Scottish Women's Aid (SWA) has warned thousands of women and children are to lose specialist domestic abuse support.
The two Women's Aid groups in West Dunbartonshire have already lost their support funding.
SWA also raised concerns about the three groups in North Lanarkshire and others in North Ayrshire and Fife.
The Scottish government said it had allocated nearly £35m since 2012 to support services for women who have been subjected to violence.
The charity said cuts mean women and children will be put at risk.
'Precarious' funding
SWA manager Lily Greenan said: "The funding is broadly precarious or at risk across the country. The issues are different in different parts of the country.
"Across Scotland on average 500 new women are supported by Women's Aid groups.
"It adds up to more than 25,000 women making contact with services for the first time over the course of a year. Most women come in to refuges with children and most come in with two children.
She added: "Services are already at the wire... At one level the cuts are understandable but this is deeply concerning."
Across the whole of Scotland there were more than 60,000 incidents of domestic abuse recorded by police in Scotland in 2012-13, an increase of almost 20,000 since 2003.
The Scottish government, police and prosecution services have made tackling the problem a key priority.
A spokeswoman for Dumbarton District Women's Aid said: "Over the last 35 years we have supported thousands of women, children and young people seeking safe refuge, a place to recover from domestic violence as well as supporting women, children and young people in our communities experiencing domestic violence and living with the effects of domestic violence.
"The severity of the cuts proposed will decimate the provision of safe refuge in West Dunbartonshire. This could ultimately result in the closure of all Women's Aid refuges in West Dunbartonshire.
"Effectively, this means there could be no Women's Aid refuge services in the whole of West Dunbartonshire. The impact will directly affect women, children and young people."
Care funding
One woman, who cannot be identified for safety reasons, escaped an abusive relationship by moving to a Women's Aid refuge in the West of Scotland.
She said: "I believe I would be dead by now if I hadn't been able to access the support of Dumbarton District Women's Aid. Without the help of Women's Aid there is no way I would have been able to go on. I am so grateful for the chance to sort my life out."
A spokeswoman for West Dunbartonshire Council said: "The council has historically supported vulnerable women in West Dunbartonshire as part of its homelessness responsibilities, and under the new funding arrangements we remain committed to supporting vulnerable women.
"In partnership with Women's Aid, the council will support the dedicated refuge in Clydebank at no cost to Clydebank Women's Aid.
"This will include delivering specialist support to vulnerable women and children resident in dispersed refuge accommodation, and supporting women and children in their own council tenancies. Negotiations to agree these services are progressing."
She added: "Given the financial challenges facing all councils, West Dunbartonshire is no longer in a position to fund what was previously identified by Women's Aid as the 'care' element of their service.
"However, the council is seeking to support Women's Aid to mitigate the impact of this in other ways."
A Scottish government spokesman said: "We do not tolerate any violence against women and children and anyone who experiences domestic abuse should be able to access the support services they require, wherever they live in Scotland.
"The Scottish government has provided £34.5 million funding over 2012-15 to tackle violence against women, including domestic abuse.
"We expect local authorities, in taking any decisions on how they see services being delivered, to take into account the needs of those who use these services, regardless of the model of delivery they choose."