When Bollywood came to Scotland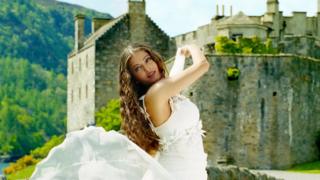 VisitScotland is launching a campaign to encourage Bollywood film fans to come to Scotland.
Over the past two decades there have been 23 Indian films that have used Scottish locations.
A new map showing the films and their locations will be made available to the Indian travel trade to give to the estimated 34,000 visitors who are expected to come to Scotland over the next year.
The Bollywood industry, based in the Indian city of Mumbai, is famous for its lavish productions and extravagant song and dance routines.
The first Bollywood films to shoot in Scotland were screen legend Dev Anand's Main Solah Baras Ki (Sweet Sixteen) and Karan Johar's Kuch Kuch Hota Hai (Something Happens in My Heart) in 1998.
They featured Scottish landmarks including Edinburgh's Royal Mile, Eilean Donan Castle in the Highlands and Crossraguel Abbey in Ayrshire.
Here is a small selection of when Bollywood met Scotland:
Kandukondain Kandukondain (I Have Found It) (2000)
Kandukondain Kandukondain is a Tamil musical and romantic film based on Jane Austen's novel Sense and Sensibility.
The film was an early role in the acting career of former Miss World Aishwarya Rai.
She came to Scotland to film the title song in the west Highlands, with Eilean Donan as a backdrop.
The film was a critical and commercial success. Its soundtrack was scored by AR Rahman, who would later win an Oscar for his Slumdog Millionaire soundtrack.
Yeh Hai Jalwa (This Is Magic) (2002)
This 2002 Bollywood comedy starring Salman Khan and Amisha Patel uses a range of locations in Edinburgh and Glasgow.
Khan romances Patel on Edinburgh's Princes Street, plays saxophone outside the Scottish National Gallery and dances on a rooftop next to the Balmoral Hotel.
In Glasgow, Khan performs with bhangra dancers in George Square.
Pyaar Ishq aur Mohabbat (2001)
Aftab and Kirti arrive at the magnificent Regency castle at Blairquhan in Ayrshire to the sound of bagpipes and Dalip Tahil wears tartan. How much more Scottish can Bollywood get?
Among the other locations are Glasgow's George Square and the City Chambers, where Sunil and Arjun have a heated exchange, and the University of Glasgow Memorial Chapel steps, where Aftab and Kirti meet Raza Murad.
The film's finale takes place at Overtoun House, a stunning country pile near Dumbarton.
Loch Lomond, Culzean Castle and Clyde FC's Broadwood stadium also make an appearance in the film.
Soch (2002)
Sanjay Kapoor and Raveena Tandon create memories to last a lifetime at Duntreath Castle and in the majestic Glen Coe.
There are also scenes filmed at Stirling Castle and the picture-perfect Inveraray.