Scottish climber among three dead in 2,000ft Canada fall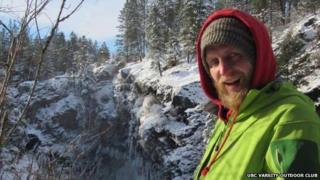 A man from Scotland has been killed with two women in a fall of nearly 2,000ft down a mountain in Canada.
The bodies of Neil Mackenzie, 31, Elena Cernicka, 35 and Stephanie Grothe, 30, were found below Joffre Peak, in the Pemberton area of British Columbia.
According to the British Columbia Coroners Service, they were ice-climbing on 11 January when they are thought to have fallen down a couloir.
The Foreign and Commonwealth Office said it was providing "assistance".
Mr Mackenzie and Ms Grothe were members of the University of British Columbia Outdoors Club. Ms Cernicka was said to have been a friend of Mr Mackenzie, but was not a member of the club.
'Scottish hardman'
In a statement released on its Facebook page, the club said Mr MacKenzie was passionate about the mountains, adding: "He dedicated a lot of his time to instructional trips with the club, always providing encouraging words to struggling participants.
"To us, he was the epitome of the proverbial Scottish hardman. He was an immensely cheerful person, always looking for the next adventure and always good for sharing a drink and a good conversation with.
"He found adventure anywhere and brought humour with him everywhere he went. Any trip with him was guaranteed to be fun. We will all miss him a lot."
Neil Mackenzie was a keen climber and mountaineer having climbed and ski-toured widely in Scotland, the European Alps, the Canadian Rockies and Alaska.
He was a post doctoral fellow in the Centre for Blood Research at the University of British Columbia, based in Vancouver. He completed his PhD in Molecular Biology and Transgenics at the Roslin Institute, which is part of Edinburgh University.
Staff Sgt Steve Leclair, of the Royal Canadian Mounted Police, said the climbers were part of a group of five but they had split up before the fall.
The husband of one of the climbers searched for his wife when they did not return and found her body before raising the alarm.
Members of Pemberton Search and Rescue then began searching at first light on 12 January.
The Coroners Service statement said the victims had "apparently fallen more than 600 metres down a couloir".
Sgt Leclair said the dead "were all found deceased within 40m of each other".
"From what it appears, they had climbed up the main Joffre Peak and got very near the top - and then had a very tragic fall," he said.
The Coroners Service said Mr Mackenzie and Ms Grothe, from Germany, had been living in Vancouver.
The FCO spokeswoman said: "We are providing consular assistance to the family at this difficult time."