NHS staff in Scotland 'suffer 35,000 injuries in three years'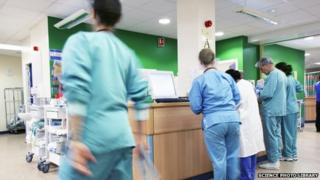 NHS staff in Scotland have suffered more than 35,000 injuries at work over the past three years.
Figures from the Scottish Liberal Democrats showed injuries included bites, needle wounds and falls, and also covered stress.
The party's health spokesperson Jim Hume said it was "worrying" violence against staff remained high.
The Scottish government said criminal proceedings against anyone who assaults a staff member was encouraged.
MSP Mr Hume said: "Whilst our health boards operate vigorous accident reporting and prevention systems we know that accidents can occur because of potentially unsafe behaviour or conditions.
"Our figures have shown that NHS staff in Scotland suffered over 35,000 injuries whilst at work over the past three years.
"These include injuries from needles, stress, and slips, trips and falls. It is worrying that violence against staff also remains a high cause of injury.
"Injuries come at great cost to the running of our hospitals, but more importantly they can cost lives. Ministers must work with health boards to reduce these injuries."
A Scottish Government spokeswoman said: "All health boards are required to provide a continuously improving and safe working environment that promotes the health and wellbeing of staff, patients and the wider community.
"The recent nationwide NHS staff survey shows that staff working in Scotland's health service feel increasingly positive about the overall experience of working for NHS Scotland.
"Unfortunately evidence shows that incidents of violent and aggressive abuse are a serious factor for healthcare workers and this is clearly unacceptable.
"We actively encourage NHS Scotland organisations to commit to supporting criminal proceedings against anyone who assaults a staff member."