Future of bagpipes 'under threat without school lessons'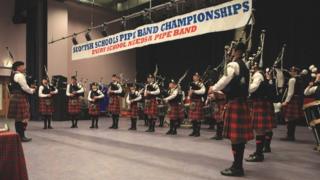 The future of Scotland's national instrument is under threat because many state schools are not offering piping and drumming lessons, according to piping enthusiasts.
Scottish Schools Pipe Band Championships convener David Johnston said many private schools had dedicated pipe tutors and flourishing bands.
But piping and drumming was not on the curriculum in many state schools.
He said there were concerns the skills will become "regionalised and elitist".
Mr Johnston singled out Edinburgh and Glasgow as the "real problem areas" in terms of lesson provision.
'Huge demand'
Mr Johnston said: "The future of our national instrument is under threat because if the inability of most of Scotland's councils to offer lessons in their schools.
"Some say there is no money for it, some say there is no demand.
"Yet where we have helped schools get tuition the demand is huge - and if a council can afford a glockenspiel teacher, surely they can afford to teach pipes and drums.
"In several schools across Scotland, parent councils have had to resort to taking their own action to set up after school clubs and bring in teachers at their own expense to offer tutoring to their children.
"I find it disappointing that in so many Scottish state schools piping and drumming is not on the curriculum - yet many private schools have flourishing bands and dedicated pipe tutors which bring huge prestige and self-esteem to band members and to the school.
"If this worrying trend continues we won't have any future pipers and drummers, and hearing the roar of pipes and drums on Hogmanay could become a thing of the past."
Curriculum plea
Craig Munro, a piper from the band The Red Hot Chilli Pipers, said he believed that if more state schools in Edinburgh and Glasgow were to introduce the pipes and drums into their curriculum, other schools across Scotland would follow.
He said: "It is clear that several schools are trying to get school pipe bands up and running but it's becoming increasingly difficult to get the piping and drumming onto the curriculum.
"If schools can offer students the likes of the recorder to learn music, then why not the bagpipes?"
Last year, the Scottish Schools Pipe Band Championships attracted more than 400 young pipers and drummers from schools across Scotland.
The 2015 championships are to be held at Broughton High School in Edinburgh on Sunday 8 March.