Forecasters predict snow and ice across Scotland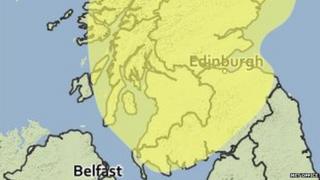 The Met Office have issued a weather warning for snow and ice across Scotland on Boxing Day night.
The forecasters have announced a yellow 'Be Aware' warning for all of the country, with the exception of the Western Isles, from 22:00 on Friday until noon on Saturday.
Temperatures will fall quickly on Friday night before heavy, wintry showers spread into the northwest of the country in the evening.
Showers will fall as snow on hills and higher routes, and to lower levels inland.
The band of weather will then move southeast overnight, with showers becoming more scattered.
The weather pattern will eventually reach the central belt and east, before showers with a mix of rain and snow hit lower levels in the south of the country on Saturday morning.
The Met Office has warned the expected weather will create icy conditions across the country, especially over lying snow.
---
Check out the latest travel news for Scotland
Around the country
For the latest on the roads visit the BBC's travel news page and keep up to date with incidents and roadworks on the motorways here.
Around the country you can check for updates from:
Alternatively, for regular travel bulletins listen live to BBC Radio Scotland and follow @BBCTravelScot.
In times of severe disruption you can also follow the BBC Scotland severe weather Twitter list of key sources.
Below are a number of other traffic information sources.
Other links
---