Drug use by children leads to hospital admissions rise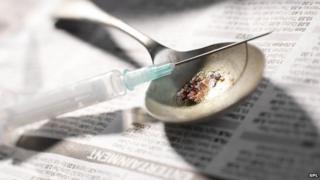 The number of occasions children were treated in hospital as a result of illegal drug use has increased by more than a third in two years.
There were 119 incidents of young people aged between 10 and 18 who required hospital attention after taking drugs in 2013.
The statistics were obtained by the Scottish Liberal Democrats under freedom of information legislation.
There was an increase of 35% on 2011, when the total across Scotland was 88.
Jim Hume MSP, the health spokesman for the Scottish Liberal Democrats, said the increase was a "clarion call" for action.
Mr Hume said young Scots need to be more educated about the risks of taking drugs.
In the NHS Lanarkshire area, data showed 38 times where children aged between 10 and 18 were taken to hospital after taking drugs last year - up from 18 in 2011.
Meanwhile, in NHS Fife, the total for such cases in 2013 was 25 - up from nine two years ago, while in NHS Greater Glasgow and Clyde it rose from 14 to 23 over the same period.
A Scottish government spokeswoman said drug use was falling among young people, as well as among the population as a whole.
Mr Hume said: "The increase in hospital admissions amongst young people for illegal drug-related illnesses may reflect that more people recognise that drug addiction is a health problem, not a criminal issue.
"But any increase in hospital admissions relating to illegal drug misuse cannot go unchallenged.
"This steady increase must serve as a clarion call to educate young people on the risks of illegal drugs."
He added: "Gone are the days when those suffering from drug addiction were kept hidden from public view.
"In fact, the only way we can flush out the criminal groups and 'Mr Bigs' reaping profits from addicts is to shine a light on illicit drug use."
A Scottish Government spokeswoman said: "Latest statistics show that drug use among young people is falling, as well as amongst the general population.
"Between 2008/09 and 2012/13 there has been a decrease in reported drug use amongst both groups.
"We have made a record investment of over £224m in frontline drug treatment and support services, with £30.4m of this provided for frontline drug treatment services and support in 2014/15 alone, ensuring that young people in Scotland have credible and accessible advice on drugs to help them make the right health choices."