Hark! The discount sales ker-chingg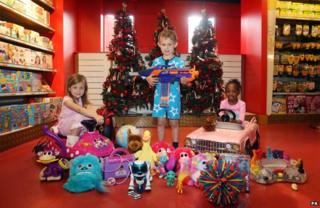 So, is it a selfie-stick, some Disney Frozen merchandise or one of the four Minecraft titles in this year's top 10 selling books?
If you're holding out for a drone as one of this year's could-have/don't-need gadgets, be aware that it may put Rudolph and the other reindeer out of work.
Amazon in the US is trialling drone deliveries for those who just can't wait - delivered to your front garden rather than down the chimney.
That's until in-store and in-home 3D printing makes deliveries themselves redundant.
I'm getting ahead of myself here, but only just. The pace of change in winter's peak retail season is bewildering.
It's being driven by consumers, seeking out competitive price, shifting rapidly to smartphone shopping, and by those retailers who are geared up to deliver on high expectations.
For many retailers, it's a stressful time - hoping they've got their stock levels right, picking the right promotions at the right time, holding their nerve on margins, and ensuring the delivery logistics deliver. Then there's the high level of returned goods.
Black Friday
This is all a long way from the notion that Christmas drives the margins on which the full year's profits were based, when there was little expectation of discounted sales before 25 December, and a big push on them to clear stock immediately after.
Black Friday has brought a lot of that change. The day after the USA's Thanksgiving holiday, which falls on the final Thursday of November, has been established as the day retailers spark the Christmas buying season with discounts.
It's a marketing ploy Amazon brought to Britain four years ago, and really ramped it up last year, along with fellow American retail giant Walmart, owner of Asda.
For Amazon's vast online machine, it's become the busiest day of the year, registering more than 5.5m sales in one day last month. That's 64 items per second, peaking at 8.29am.
John Lewis, a bricks and mortar retailer which has worked hard, and successfully, to keep up with the online and mobile boom, has also been carving out some of the action.
Across retail, we were told, sales of electronic goods were up nearly a third. The total Black Friday online sale was put at £810m
That meant more online sales were despatched by the end of November 2014 than in the whole of 2013.
Optimistic
So Black Friday helped drive total retail sales up sharply last month, according to the latest statistics from the Office of National Statistics. That may also reflect the slight easing on household budgets from cheaper fuel, fiercely competitive price promotion on groceries, and expectations of continued low interest rates.
The background to spending is also that people are getting a bit more confident about their finances. The most recent Markit survey of household finances found optimism about the next 12 months at the highest level in the survey's history - though it's not as good as that sounds, in that the survey's only been going five years, and it's only just got above the 'more optimistic than pessimistic' mark.
The Scottish Retail Consortium reported disappointing November figures, however, perhaps because much of the online traffic is not being caught in the statistics, but feeds through centralised buying systems.
The PR hype continued from Black Friday into the subsequent Cyber Monday, with Amazon getting more than 4m sales. Last Saturday was, we were told (and duly reported), Panic Saturday, though there was an attempt also to have a counter-consumerist Ordinary Friday, when you go to a local shop and get stuff you'd usually buy anyway.
Turkey carcass
And before the Christmas presents have even been unwrapped (or wrapped, for the more disorganised among us), what were once known as 'January sales' are already getting under way online, as the big department stores try to make an early impact.
It carries forward into Christmas Day itself. For Amazon, Christmas Day rivals Cyber Monday as its second busiest of the year, after Black Friday. It expects this year's Christmas Day sales to be up five-fold in only five years, and its biggest day ever for digital downloads.
The trade comes in three waves. The first one runs until 11am, with people buying vouchers as last-minute gifts, which they can print or send electronically.
By lunchtime, that has subsided, and is replaced by recipients of new computers, gaming consoles, e-readers and, of course, vouchers, who start buying and downloading content, reaching the day's peak around 12:30. Capsules for new coffee machines are also a favourite.
By later in the day, as some family members are clearing up after dinner and stripping the turkey carcass, others are hitting the sales before the shops open. That peak comes just after 9pm, with significant sales of DVDs and music following the lead of TV offerings during the evening peak hours.
According to the retail traders association, IMRG, shoppers will spend £441,000 a minute online on Christmas Day, rising to £519,000 a minute on Boxing Day.
In all, predict the IMRG and Experian, Christmas Day visitors will spend an estimated £636m over 142m retail site visits. On Boxing Day, shoppers will spend £748m during 167m site visits. In all, that adds up to a spend of £1.3bn over the two days.
Click-and-Collect
Taken together, these changes mean big challenges for retailers. It means budgets may be much tighter through December. The margins they used to count on in the run-up to Christmas are being severely challenged by customers' expectation of discounting, and by the use of mobile and online options to seek out the lowest prices.
That means they have to invest in technology platforms, including apps, which can compete with hugely resourced online rivals. It also needs fleetness of foot. Online traffic can be driven by lightning deals, offering limited stock at big knockdown prices but only for perhaps 15 minutes at a time.
Some retail analysts express astonishment at how slow some conventional businesses have been to adapt to this change in consumer behaviour.
And then, there's getting the logistics right. For some, that's click-and-collect, requiring swift movement of stock out of warehouses. Without it, many retailers have admitted they would struggle to deliver on the scale of home shopping orders.
The last mile
The big delivery firms are at full stretch. Yodel, the second biggest, admitted it went rather further earlier this month, in the wake of the Black Friday and Cyber Monday orders. It ceased collections from retailer depots for a couple of days while getting the backlog under control.
Yet the expectation of speed is growing at an extraordinary pace. An order placed by noon on Christmas Eve can be delivered in the evening - at a price.
Judging by the number of vans I'm seeing on home delivery runs, it seems likely that retailers will want to cut the relatively high cost of that last mile with incentives to collect parcels instead.
The Post Office network sees an opportunity to be the collection point of choice. Amazon now boasts 16,000 collection points, more than 10,000 of them post offices, though there's no financial incentive to use them.
The online retail giant is also working with Smiths, the newsagents' distributor, to open up more convenience store options. It's also one of those in the early stages of investing in lockers where you can pick up your parcel using a code. They're located where there's significant footfall, such as railway stations.
Taxing times
If you think all this seems to miss out on the real spirit of Christmas, then you'd be entirely right.
Particularly for those of us who live in Glasgow, the tragedy in Queen Street on Monday means the shopping frenzy has been subdued, at least in tone.
And for others, the idea of surfing the web for bargains is all too much. They can go to church. Or last year, 1566 people hit the 'send' button on their tax return on Christmas Day, slightly up on 2012 and peaking between noon and 1pm.
Also according to HM Revenue and Customs, more than 10 times more than that filed their return on Boxing Day.
Efficient use of time, or time for some self-assessment of the non-taxable variety?
Merry Christmas!