Nicola Sturgeon's Twitter followers treble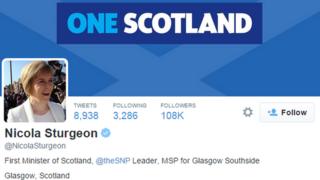 Nicola Sturgeon's followers on Twitter have more than trebled this year, according to a social network monitor.
The first minister has 107,340 followers, up from 34,516 at the beginning of the year, Yatterbox said.
Ms Sturgeon still trails behind her predecessor Alex Salmond, whose followers more than doubled from 52,155 to 134,202.
New Scottish Labour leader Jim Murphy has 29,618 followers, up from 18,661 over the year.
Conservative leader Ruth Davidson's followers have more than doubled from 5,902 to 14,901, while Liberal Democrat leader Willie Rennie's followers have risen from 4,188 to 5,405.
Scottish Green co-convenor Patrick Harvie has more than 37,000 followers, but Yatterbox did not say how much this figure had increased over the year.
The Twitter page for the pro-independence Yes Scotland campaign increased its followers from 37,982 in April to 100,901 by the time of the referendum on 18 September, Yatterbox said.
That figure is more than twice as many as those following the pro-union Better Together group, which rose from 21,191 to 42,701.
Yatterbox's head of product Ben Carson said: "Twitter is fast becoming one of the most important tools for politicians and parties to communicate and engage with the public.
"The data shows a higher take-up of Twitter in Holyrood compared to Westminster, with well over 80% of MSPs using Twitter.
"The numbers show the SNP seem to have a strong social media strategy in force and it will be interesting to see whether the other parties and leaders will be able to catch up ahead of next year's general election."