Church of Scotland presbyteries vote to appoint gay ministers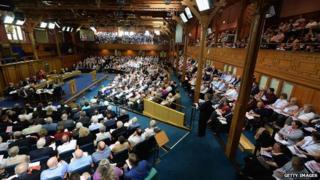 The Church of Scotland has moved another step closer to allowing congregations to appoint gay ministers.
A majority of the Kirk's presbyteries have now voted in favour of change.
The final decision will be taken at next year's General Assembly.
The issue has been a consistently controversial one for the church, prompting what Kirk leaders insist is a relatively small number of ministers to quit.
Earlier this year, the General Assembly asked its 46 presbyteries to consider whether congregations should be allowed to opt out of the traditional stance and appoint a minister who is in a civil partnership.
'Declared sexuality'
The deadline for returns is Hogmanay but already a majority have voted in favour.
It means the question will return to the General Assembly next May where commissioners - around 800 of them - will decide whether to pass it as Church Law.
At the Kirk's gathering in 2011, commissioners voted to accept gay and lesbian clergy - on the condition they had declared their sexuality and were ordained before 2009.
The Kirk then prepared a report by its theological commission, which set out arguments on both sides.
Last year, the ruling General Assembly voted in favour of a proposal that allows liberal parishes to opt out of the church's policy on homosexuality and this year's commissioners backed sending the draft church legislation to local presbyteries.