Half of Scottish football sectarian court cases fail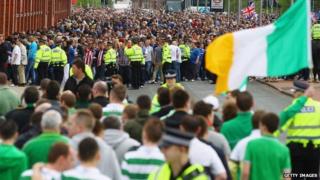 Almost half of all people taken to court this year under laws designed to stamp out sectarian abuse at football matches were acquitted, figures show.
There was action taken against 161 people in 2013/14 with not guilty outcomes in 74 cases (48%).
Proceedings were brought under the Offensive Behaviour at Football and Threatening Communications (Scotland) Act 2012.
The majority (154) were prosecuted for offensive behaviour at football games.
The previous year there were proceedings against 91 people under the same part of the Act, with 25 people acquitted (27%).
The laws criminalise threatening behaviour including offensive singing or chanting at football matches as well as threats posted online or made by post.
Last month, the SNP government saw off a call to repeal the Act, insisting the legislation was working.
'Flawed' legislation
A Labour motion calling for the "flawed" legislation to be scrapped was defeated by 68 votes to 50 after a debate in the Scottish Parliament.
During his successful campaign for the Scottish Labour leadership, Jim Murphy pledged to scrap the laws, which have been criticised by some football clubs, if the party wins the next Holyrood election in 2016.
A Scottish government spokesman said: "There is no conviction rate target for our courts for any offence as it is always a matter for the courts to decide whether to convict in any individual case based on the evidence before them.
"Season 2013-14 saw a 24% reduction in the number of charges under the Act from the previous season, falling from 267 charges down to 203. We welcome this fall in charges which shows the vast majority of football supporters simply wish to enjoy the match and support their team."