Black Friday helps boost Scottish shopper numbers for fifth month in a row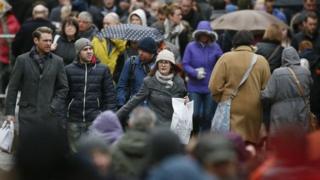 Shop promotions on Black Friday helped increase the number of shoppers on Scotland's high streets for the fifth month in a row.
Retail analysts said the totals were up 0.9% in November compared to a year ago and 0.5% on the previous month.
The figures showed that Scotland's shopping areas were performing better than the rest of the UK, which saw a 2.4% decrease in footfall.
Promotions in the run-up to Christmas were identified as a key factor.
Black Friday, traditionally a post-Thanksgiving discount shopping day in the United States, has become one of the busiest shopping days of the year.
Hundreds of shops around the country slashed prices on selected items during the weekend sale.
The Scottish Retail Consortium (SRC) and Springboard monitor figures showed Scotland out-performed 10 different regions and countries of the UK.
'Rising real incomes'
The West Midlands at 1.5%, and the east of England at 2.2%, were the only other areas to see an increase in shopper numbers.
SRC director David Lonsdale said: "Shopper footfall in Scotland has risen for seven of the past eight months, suggesting that retailers' efforts to tempt shoppers with new ranges, pricing and promotions is making a difference.
"Retailers will be hoping that increased footfall, coupled with an improving labour market and rising real incomes, will provide a welcome sales fillip which can be sustained during and after the crucial Christmas trading period."
Diane Wehrle, director at Springboard, said: "Unlike the UK, footfall in both high streets and retail parks increased in November, with just shopping centres recording a negative change.
"Across the UK it was particularly disappointing for high streets and shopping centres that the significant price promotions offered over the Black Friday weekend were not sufficient to turn the tide over the month."