Games Masters: Five decades of computer games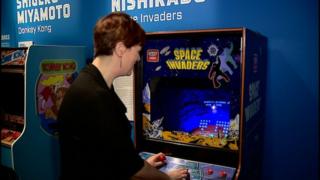 It is a long time since I spent a morning in a crowded amusement arcade, full of high-pitched beeps, bells and klaxons.
Faces peering into screens in concentration, sporadically lit by explosions of neon light.
But this isn't an 80s arcade.
It's the National Museum of Scotland and the beginning of a new exhibition which aims to celebrate the games of the past five decades and the people behind them.
Those of us of a certain age will recognise Pac-Man, Space Invaders and Donkey Kong, but what do you know about their Japanese creators Tori Iwatani, Tomohiro Nishikado and Shigera Miyamoto?
And while we might all know the headlines about Grand Theft Auto, did you know it was originally designed by Dundee-based DMA design?
Their original pencil notes for the design and signed posters for the original release are on display in the exhibition for the first time.
You don't have to look far for Scottish involvement.
With 95 companies involved in games design, it is central to the UK industry and Space Budgie from Dundee, Lucky Frame from Edinburgh and The Secret Experiment from Glasgow all get their moment in the spotlight.
What's clear is how rapidly the industry has changed - from those early, somewhat primitive graphics to the slick, realistic images of recent games.
But it's not just the way they look, it's the way they're played.
Originally the preserve of teenage boys, who had to go to arcades to play. Now, we're all gamers, downloading apps to play on the morning commute.
The average serious "gamer" is now mid-30s and just as likely to be female as male.
The games themselves are more and more sophisticated. Informative or educational, encouraging players to design buildings, or indulge in role play, get fit, or play in a band.
And how else to understand them, than to play.
Most of the 100 games which feature in the exhibition are designed to be played.
The National Museum of Scotland expects such demand they are planning to introduce ticketed time slots.
Previous experience in Australia and New Zealand suggests it is the nostalgic parents who prove hardest to shift from the arcade games and despite, paying their £10 ticket fee, still have the urge to insert coins.
Games Masters is at the National Museum of Scotland in Edinburgh until 20 April.