Membership challenge for the Church of Scotland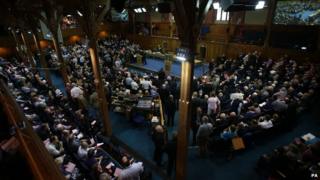 The most senior figure in the Church of Scotland has challenged the Kirk to find 100,000 new members by 2025.
The Right Reverend John Chalmers said it should redefine membership to reflect a growing online audience.
He made the statement as part of his New Year's message which will be published in the Kirk's magazine.
The Moderator of the General Assembly said: "The church has constantly to renew itself."
Figures released earlier this year showed that Church of Scotland membership had fallen below 400,000 for the first time.
Rows over issues such as same sex marriage and the ordination of gay ministers have cast a shadow over the church in recent years and led to some ministers leaving.
The moderator said that he was "fed up" with the church publishing annual statistics which showed membership decline.
He added: "The truth about the number of people who belong to our faith communities is, in reality, quite different."
He said that achieving 100,000 members over the next 10 years would be a challenge but the church needed to find a way of doing it.
'Redefine membership'
Mr Chalmers said: "The real challenge is to redefine membership in a way that allows us to include women and men, young and old who do not fit the post-Second World War model of membership with which we are so familiar.
"That pattern does not resonate with the vast majority of those who are 50 and younger and who will never buy into the kind of church which sits so comfortably with me and my way of expressing my Christian faith.
"It might pain me to say it, but it's time for a radical change and I don't mean a change of hymns, or a visually-aided sermon or a new time of day for traditional forms of worship. I mean something much more far reaching than that."
In his statement he explains that the church needs to have a conversation about how it uses the internet to attract people who may want to become members, but not necessarily in the traditional sense of attending a Sunday service every week.
He said: "I want us to explore how people might be able to belong to the Church of Scotland rooted in reality, which can interact with them in the context of an online community, but also be there for them when they need real human contact."