Russia sanctions 'hitting Scottish engineering firms'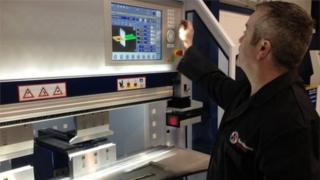 Western sanctions against Russia are having an impact on Scots engineering firms, according to a survey.
Scottish Engineering said manufacturing exports were stifled in the third quarter by the effects of a recession in the eurozone.
But it also pointed to Russia's "general economic malaise" and said US and EU sanctions had hit a range of Scottish-produced goods.
However, the industry body added that the sector was now "back on track".
Western leaders introduced sanctions against Russia earlier this year, after its alleged interference in Ukraine and the annexation of Crimea.
Scottish Engineering's latest survey suggested there had been a significant improvement in the sector, following last quarter's "interruption" to the industry's drive out of recession.
The industry body said prices continued to come under pressure, but staffing, investment and optimism had all picked up.
In particular, survey respondents recorded substantially improved figures in electronics and oil and gas.
Scottish Engineering chief executive Bryan Buchan said: "Scotland's engineering sector has a significant number of companies which export to Russia.
"That country's general economic malaise is compounded by widening sanctions which are impacting on a range of goods manufactured in Scotland."
Looking ahead, Mr Buchan welcomed the USA's move to turn off quantitative easing as the country appeared to be well into a robust recovery.
He added: "This should be seen as a positive sign because, as we know, what is good for the US can generally be good for us."