In quotes: Reaction to Smith Commission proposals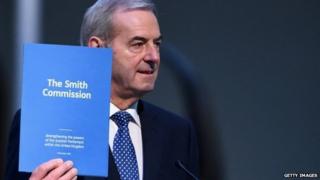 Lord Smith has announced the findings of his cross-party commission on Scottish devolution.
The Smith Commission has recommended giving the Scottish Parliament power to set income tax rates and bands. It also said that voting rights should be extended to 16 and 17-year-olds in Scotland in time for the 2016 Holyrood elections.
Other recommendations include the Scottish Parliament being given powers over a range of other benefits that support older people, carers, disabled people and those who are ill, as well as powers to create new benefits in devolved areas and make discretionary payments in any area of welfare.
Here is some of the reaction to the proposals.
---
John Swinney, Deputy First Minister
"Regrettably, the Westminster parties were not prepared to deliver the powerhouse parliament the people of Scotland were promised.
"Under these proposals, less than 30% of our taxes will be set in Scotland and less than 20% of welfare spending will be devolved to Scotland.
"That isn't Home Rule - it's continued Westminster rule.
"This was a missed opportunity to devolve the welfare system in order to help build a fairer, more prosperous society."
Margaret Curran, Shadow Scottish Secretary
"Today we respond to the call for change that we heard on 18th September with extensive new powers for the Scottish Parliament. This is a promise kept and an agreement delivered.
"There shall be a stronger Scottish Parliament.
"Politics in Scotland has changed forever and people want power close to them. This agreement today meets that demand with extensive new powers over tax, welfare and job creation being passed to the Scottish Parliament."
Patrick Harvie, co-convenor of the Scottish Green Party
"This package falls short of the complete autonomy many hoped for but it does have potential.
"If these powers are delivered as promised we must use them to close the gap between rich and poor, overcome the UK's austerity agenda, and invest in the skills and green infrastructure that will sustain our economy.
"There will now be no hiding room on the troubling issue of fracking. Scotland will look to its own government to protect communities from this unwanted and destructive new wave of fossil fuel extraction."
Ruth Davidson, leader of the Scottish Conservative Party
"This deal today will bring real choice back to Scottish politics between those of us who want to lower the taxes of Scotland's workers and let them keep more of the money they earn, and those who want to charge our working men and women more for irresponsible government spending.
"That is the real divide in Scottish politics, not the old choice of Nationalist versus Unionist.
"Future Scottish governments will have to look Scottish taxpayers in the eye when they are spending their money."
Willie Rennie, leader of the Scottish Liberal Democrat Party
"Today is a good day for Scotland, for home rule and for the Liberal Democrats.
"We have secured an all-party agreement for a bold package of new powers. We made the weather on more powers from the beginning. From launching our Campbell report in 2012 to making the case for welfare in the negotiations.
"These powers create a Scottish welfare system and give the Scottish Parliament the financial muscle it needs."
Louise Cameron, chairwoman of the Scottish Youth Parliament
"With many powers over electoral administration already devolved to the Scottish Parliament, we believe that devolving the powers to lower the voting age is a logical and sensible next step which will make votes at 16 a reality in Scottish elections and continue the high levels of engagement with young people we experienced during the referendum.
"Given the experience of the referendum, there is now widespread consensus among the public, the media and politicians that the voting age should be lowered to 16."
Grahame Smith, general secretary of the Scottish Trades Union (STUC)
"Whilst there are certainly positive elements in these proposals, we are underwhelmed by the package as a whole which does not meet our aspirations.
"The power to create additional welfare provision is certainly to be welcomed, as is the devolution of the work programme.
"However, in sum total, there is not enough to empower the Scottish Parliament to tackle inequality in Scotland."
Liz Cameron, chief executive of Scottish Chambers of Commerce
"Time is of critical importance and our priority is to ensure that the Scottish business community is at the core of implementing these recommendations.
"Now, the responsibility is on politicians to come together and focus their collective talents and skills to deliver upon these recommendations and create the new Scotland which has the right economic levers to support our businesses, which are the creators of jobs and wealth."
Gordon Maloney, president of National Union of Students Scotland
"It's great to see further powers for the Scottish Parliament over votes at 16.
"Young people across Scotland campaigned for, and then proved the worth of, lowering the voting age, and it's a proud moment for students, NUS Scotland and young people to see this delivered for Scottish elections.
"Equally, it's great to see some further powers over equalities issues, and the ability to ensure fair representation on our public bodies, income tax and welfare - all powers NUS Scotland have called for."
Lynn Henderson, Scottish secretary of the Public and Commercial Services Union
"In the drive to find a compromise amongst the five political parties, the commission missed the real cry from amongst the many detailed submissions and opinions of the Scottish public for adequate powers to redress growing taxation and welfare inequalities and to create a fairer Scotland.
"The tax and fiscal opportunities in the agreement are partial, making the reality of meaningful tax redistribution limited.
"We welcome the additional welfare and employability provision devolved, but capping benefits to UK levels in effect retains existing poverty and inequality traps for the most vulnerable in Scotland."
Bill Scott, policy director at Inclusion Scotland
"We are disappointed that the Smith Commission failed to devolve all welfare and more fiscal powers to Scotland.
"We consulted with hundreds of disabled people and their near unanimous view was that we needed 'Devo Max', including the devolution of all welfare benefits.
"However we are pleased that the Scottish government should get more control over employability schemes.
"Now the Scottish government has the chance to reform the scheme and ensure that it provides support to disabled people rather than punishing them."
Alistair Morris, president of the Law Society of Scotland
"We are particularly pleased to see that reserved tribunals, such as employment tribunals, are to be devolved. This will undoubtedly benefit those seeking recourse through the administrative justice system.
"We also welcome the proposals for improving the cooperation between the UK and Scottish governments in relation to EU matters and that Scottish ministers are to be fully involved in agreeing the UK position in EU negotiations relating to devolved policy matters.
"It's now important that any new constitutional settlement stands the test of time and crucially maintains cross party support. That is why the UK and Scottish governments must consider the practicalities of devolving further powers and consult as widely as possible as the new legislation is developed."
Andy Willox, Scottish policy convenor of the Federation of Small Businesses
"We know that our members' preferred course of action in the event of a 'No' vote was a Scottish Parliament with more powers, and today's agreement certainly moves in that direction.
"No matter how the Scottish Parliament chooses to use new powers, we cannot see a new administrative burden fall on Scottish businesses, or firms who trade or employ north of the border. We must develop smart tax and regulatory systems which take the administrative sting out of any changes for the business community."
Gordon Dewar, chief executive of Edinburgh airport
"We welcome the Smith Commission's recommendation that air passenger duty (APD) is devolved to the Scottish Parliament. This should not and need not wait for legislation on other tax changes.
"We strongly believe that there is a real case to see it devolved as soon as possible so that Scotland can capitalise fully on the benefits of this fantastic year where we have been in the global spotlight.
"The removal or reducing of this tax will see millions of more passengers come to Scotland, as our major airlines have indicated.
"Airline planners are finalising 2015 now and we run the risk of losing that momentum as those people who wish to visit us are deterred by the highest aviation taxes in the world."