Appeal after cats poisoned in the Stirling area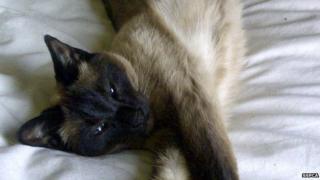 The Scottish SPCA is appealing for information after two cats died from suspected antifreeze poisoning in the Stirling area.
On 16 November a Siamese cat named Cyan was found dead near Bannockburn Road in Bannockburn.
A post-mortem examination revealed she died after ingesting an antifreeze substance.
Antifreeze, or ethylene glycol, has a sweet taste which appeals to cats and is usually colourless and odourless.
The charity was unable to say whether the poisonings were deliberate or accidental.
Scottish SPCA Chief Superintendent Mike Flynn said: "Cyan's owners are understandably distraught following this tragic incident.
"Earlier in the month, a cat named Bella was also found dead at Fincastle Place, less than four miles away. Unfortunately Bella was not given a post-mortem but in this case the vet believes the cause of death was likely to be antifreeze poisoning.
"It causes tremendous suffering if ingested and by the time symptoms such as vomiting, lethargy, head shaking and coma occur it is often too late to treat.
"If anyone has antifreeze in their garage or shed we would urge them to ensure roaming cats do not have access to this."
He urged anyone with information relating to the incidents to contact the animal helpline on 03000 999 999.