'Avoid A&E trips' for minor ailments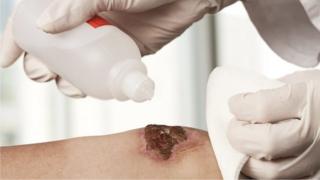 Patients have been urged to avoid making unnecessary trips to hospital accident and emergency units to ease the burden on hard-pressed departments.
The Scottish government said people with non-life threatening conditions were often better contacting NHS 24, a pharmacy, GP or minor injuries unit.
And it suggested people stock up with cold and flu remedies and repeat prescriptions over the festive period.
Figures released on Tuesday showed more people than ever are going to A&E.
Two years ago, an early start to the winter vomiting bug and an increase in respiratory illnesses such as flu placed an even greater burden than usual on A&E departments.
Public health minister Maureen Watt said: "Unless life threatening NHS 24, the local pharmacy, the GP surgery or minor injuries unit may be the better place to go rather than a busy A&E unit.
"By finding out what services are open and stocking up on winter remedies, we can prevent winter illnesses from spoiling the holiday period. It will also ensure that emergency lifesaving services are kept free for those who really need them."
'Medicine cabinets'
Over the festive period, GP surgeries throughout most of the country will be closed for four days at Christmas (25-28 December), before re-opening on 29 December. They will close again for four days at New Year (1-4 January), before re-opening again on 5 January.
NHS 24's Executive Nurse Director Sheena Wright advised the public: "Take the time now to check you have cold and flu remedies in your medicine cabinet and use your local pharmacy for advice on what to have in your medicine cabinet.
"If you need to visit your GP, try to schedule an appointment before the festive period and submit your repeat prescription request in plenty of time and only order what you need.
"By taking the time now, you can help ensure you and your family enjoy a healthy festive period."